Suspect in Paul Pelosi assault had posted about QAnon
A man accused of breaking into US House of Representatives Speaker Nancy Pelosi's California home and severely beating her husband with a hammer appears to have made racist and often rambling posts online, including some that questioned the results of the 2020 US presidential election, defended former US president Donald Trump and echoed QAnon conspiracy theories.
David DePape, 42, is accused of attacking 82-year-old Paul Pelosi while searching for the Democratic leader and shouting: "Where is Nancy, where is Nancy?"
Nancy Pelosi, who was in Washington at the time of the attack, arrived in San Francisco late on Friday. Her motorcade was seen arriving at the hospital where her husband was being treated for his injuries.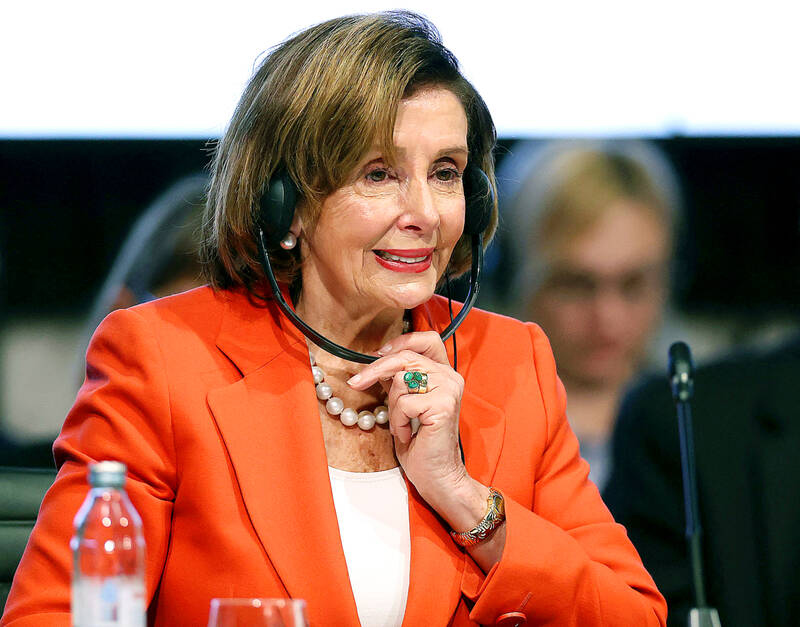 US House of Representative Speaker Nancy Pelosi listens to the speech of the Ukrainian president at a summit in Zagreb on Tuesday.
Photo: AFP
"This was not a random act. This was intentional. And it's wrong," San Francisco Police Chief William Scott said.
At an evening news conference, Scott hailed a 911 dispatcher's work — after Paul Pelosi called for help — as "lifesaving."
The chief appeared to hold back tears, his voice breaking at times, as he strongly rejected violence in politics.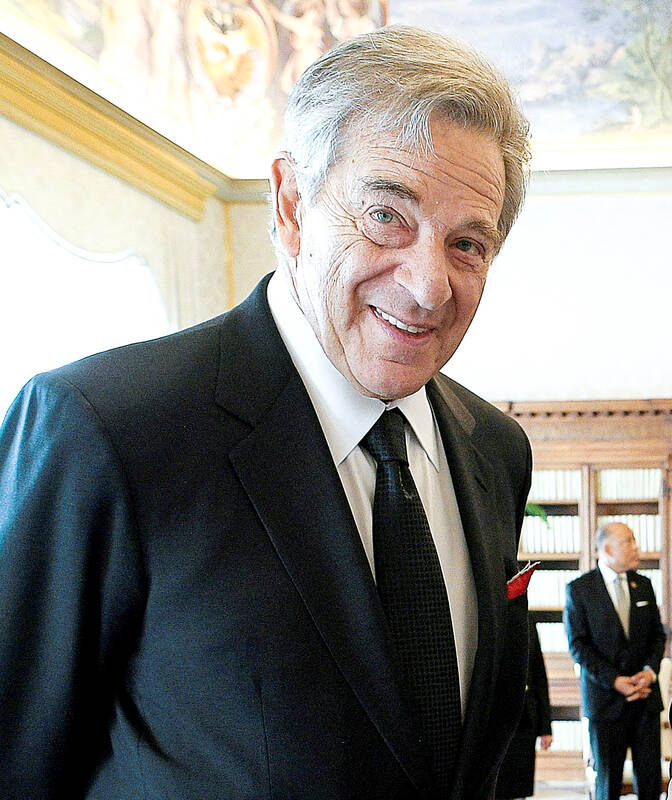 Paul Pelosi, husband of US House of Representatives Speaker Nancy Pelosi, smiles before he and his wife meet Pope Francis at the Vatican on Oct. 9 last year.
Photo: REUTERS
"Our elected officials are here to do the business of their cities and their counties and their states. Their families don't sign up for this," Scott said. "Everybody should be disgusted about what happened this morning."
DePape was arrested on suspicion of attempted murder, elder abuse and burglary, and remained in hospital late on Friday, police said.
Paul Pelosi underwent surgery to repair a skull fracture, and serious injuries to his right arm and hands, Nancy Pelosi's office said, adding that his doctors expect a full recovery.
US President Joe Biden quickly called Nancy Pelosi and later delivered a full-throated condemnation of the "despicable" attack that he said had no place in the US.
"There's too much violence, political violence. Too much hatred. Too much vitriol," Biden said at a Democratic rally in Pennsylvania. "What makes us think it's not going to corrode the political climate? Enough is enough is enough."
The San Francisco Chronicle reported that DePape had allegedly posted online rants about technology, aliens, communists, religious minorities, transsexuals and global elites.
An Aug. 24 post titled "Q" on a blog DePape ran with a friend displayed a scatological collection of memes that included photographs of disgraced US billionaire Jeffrey Epstein and made reference to QAnon, a baseless pro-Trump conspiracy theory that espouses the belief that the country is run by a deep state cabal of child sex traffickers, satanic pedophiles and baby-eating cannibals.
A post from a day later read: "You no longer have rights. Your basic human rights hinder Big Brothers ability to enslave and control you in a complete and totalizing way."
In Taipei, the Ministry of Foreign Affairs on Friday said in a statement that the government was "shocked" by the attack on Paul Pelosi and offered condolences.
President Tsai Ing-wen (蔡英文) and Minister of Foreign Affairs Joseph Wu (吳釗燮) also issued personal messages of concern, and asked the US and San Francisco representative offices to pass on their condolences to the Pelosi family.
Comments will be moderated. Keep comments relevant to the article. Remarks containing abusive and obscene language, personal attacks of any kind or promotion will be removed and the user banned. Final decision will be at the discretion of the Taipei Times.