German parliamentarians arrive in Taiwan
The first parliamentary delegation from Germany to visit Taiwan since the COVID-19 pandemic began in late 2019 arrived in Taoyuan yesterday morning, with a delegation member saying the trip was meant to "show support to Taiwan."
Vice Minister of Foreign Affairs Alexander Yu welcomed the delegation led by German-Taiwan Parliamentary Friendship Group Chairman Klaus-Peter Willsch when they arrived at Taoyuan International Airport at about 7am.
Willsch and three of the group's deputies, German lawmakers Katrin Budde, Till Steffen and Rainer Kraft, as well as Representative to Germany Shieh Jhy-wey (謝志偉), stopped briefly to take photographs before leaving the airport without speaking to the press.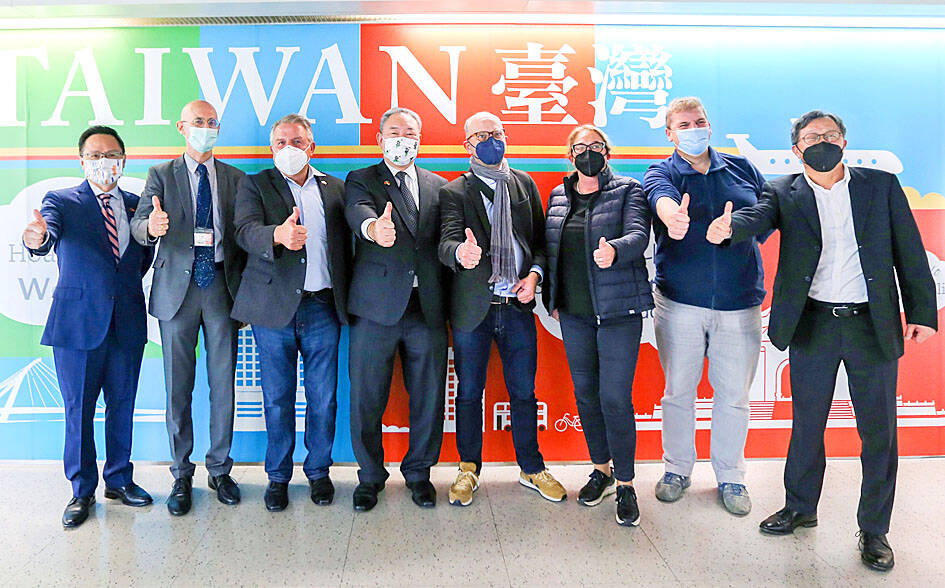 From third left, German-Taiwan Parliamentary Friendship Group chairman Klaus-Peter Willsch, Vice Minister of Foreign Affairs Alexander Yui, German lawmakers Till Steffen, Katrin Budde and Rainer Kraft, and Representative to Germany Shieh Jhy-wey pose for a photograph after the German delegation arrived at Taiwan Taoyuan International Airport yesterday.
Photo: CNA
The rest of the seven-member parliamentary delegation were scheduled to arrive in Taiwan later last night or today, the Ministry of Foreign Affairs said.
Before the visit to Taiwan, German public broadcaster ARD asked Willsch to comment on US House of Representatives Speaker Nancy Pelosi's 19-hour trip to Taipei on Aug. 2 and 3.
He said that a peaceful visit to a fellow democratic country has never been a problem.
The problem was an overly nervous authoritarian state that overreacts to such visits by firing missiles and using military coercion, Willsch said, referring to Beijing's launch of live-fire military drills in six maritime zones encircling Taiwan from Aug. 4 to 7.
Budde said during the same ARD interview that it is compulsory for fellow democratic countries to show support for Taiwan when it is facing a military threat from China.
The delegates include five deputy chairs of the parliamentary friendship group, which consists of parliamentarians from six different political parties, Shieh said.
"The cross-party delegation means to show their unified support for Taiwan because Taiwan is a beacon of freedom and democracy," Shieh wrote on Facebook on Saturday.
Shieh also said that another German parliamentary group would be visiting Taiwan in three weeks.
During their five-day visit, the delegation members are to meet with President Tsai Ing-wen (蔡英文), Vice President Willaim Lai (賴清德) and other senior government officials, the ministry said.
They are also to visit the Legislative Yuan and meet with lawmakers from the local Taiwan and Germany Parliamentary Friendship Association, and hold meetings with local security think tanks.
The delegation plans to visit the Tainan Science Park (臺南科學園區) to enhance two-way exchanges in trade and investment, high-tech industry, and supply chain security, the ministry said.
Comments will be moderated. Keep comments relevant to the article. Remarks containing abusive and obscene language, personal attacks of any kind or promotion will be removed and the user banned. Final decision will be at the discretion of the Taipei Times.