HK's John Lee promises revival under Xi's 'blueprint'
Hong Kong's leader yesterday promised to revive the territory's struggling economy as the Chinese Communist Party marked its 73rd anniversary in power under strict COVID-19 controls.
Hong Kong Chief Executive John Lee (李家超) said in a speech that COVID-19 "still overshadows" the territory of more than 7 million people, but promised to revive the struggling economy and "safeguard people's livelihood" as travel and other disease prevention measures are eased.
Lee, who took office in July, is a former police chief who oversaw a crackdown that imprisoned pro-democracy activists, shut down a prominent newspaper and triggered an exodus of residents to Taiwan, the US and the UK.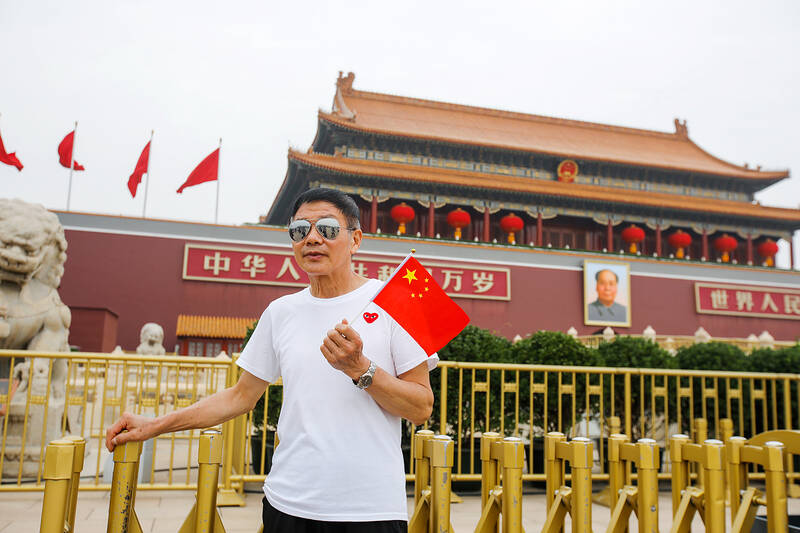 A man poses for a picture at Tiananmen Square in Beijing yesterday.
Photo: EPA-EFE
"Hong Kong now undergoes the critical transition from stability to prosperity," said Lee, who wore a red mask the color of the Chinese national flag and was flanked by masked dignitaries at a downtown convention center.
"I have full confidence in the future of Hong Kong, and so should you," he said.
Lee invoked the slogan "patriots administering Hong Kong," a reference to official efforts to block pro-democracy activists from holding public office.
He said a speech given by Chinese President Xi Jinping (習近平) during a July 1 visit would be his administration's "blueprint for governance."
On Friday, Chinese Premier Li Keqiang (李克強) promised at a National Day reception in Beijing to keep economic performance "within an appropriate range" despite the pressure of the COVID-19 pandemic, Xinhua news agency reported.
The US, the UK and other governments have said that Beijing's crackdown on Hong Kong in response to pro-democracy protests that began in 2019 breached its promise of autonomy for the former British colony.
Washington and other governments have imposed sanctions on some officials associated with the crackdown and withdrawn trade and other privileges that treated Hong Kong as a separate territory from China.
In Taiwan, members of the Taiwan People's Communist Party raised the Chinese flag in Tainan and chanted: "Long live the motherland."
The party is led by Lin Te-wang (林德旺), a businessman based in China. He once prompted controversy by driving a vehicle with Chinese license plates in Taiwan.
Comments will be moderated. Keep comments relevant to the article. Remarks containing abusive and obscene language, personal attacks of any kind or promotion will be removed and the user banned. Final decision will be at the discretion of the Taipei Times.