Harris vows 'ironclad' security commitment
US-ASIA ALLIANCE: US Vice President Kamala Harris and South Korean President Yoon Suk-yeol agreed on their countries' support for 'peace and stability' in the Strait
US Vice President Kamala Harris yesterday capped her four-day trip to Asia with a stop at the Demilitarized Zone (DMZ) dividing the Korean Peninsula as she emphasized the "ironclad" US commitment to the security of its Asian allies and reaffirmed the US' support for "peace and stability" in the Taiwan Strait.
The visit came on the heels of North Korea's latest missile launches and amid concerns that Pyongyang might conduct a nuclear test.
Visiting the DMZ has become something of a ritual for US leaders hoping to show their resolve to stand firm against aggression.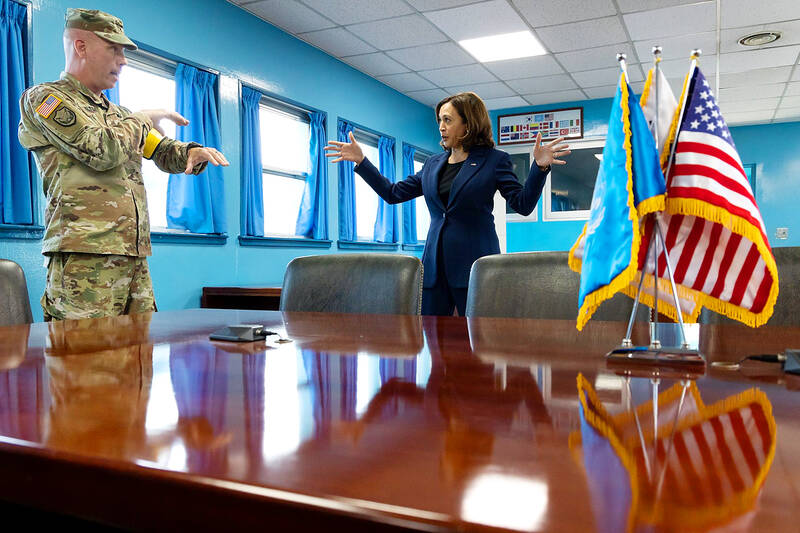 US Vice President Kamala Harris, right, talks to a US soldier during her visit to the UN Command Military Armistice Commission conference buildings at the truce village of Panmunjom in the Demilitarized Zone in Paju, South Korea, yesterday.
Photo: Bloomberg
North Korea fired two short-range ballistic missiles on Wednesday, while Harris was in Japan, and fired one before she left Washington on Sunday. The launches contribute to a record level of missile testing this year that is intended to move North Korea closer to being acknowledged as a full-fledged nuclear power.
At the DMZ, Harris went to the top of a ridge, near guard towers and security cameras. She looked through bulky binoculars as a South Korean officer pointed out military installations on the southern side. Then a US officer pointed out some of the defenses along the military demarcation line, including barbed-wire fences and claymore mines.
He said US soldiers regularly walk patrols along a path.
"It's so close," Harris said.
Harris described the North Korean missile launches as provocations meant to "destabilize the region," and said the US and South Korea remain committed to the "complete denuclearization" of the North.
"I cannot state enough that commitment of the United States to the defense of the Republic of Korea is ironclad," she said.
"In the South, we see a thriving democracy. In the North, we see a brutal dictatorship," she said before flying out of the border on a US military helicopter.
Earlier, Harris met with South Korean President Yoon Suk-yeol at his office in Seoul and reaffirmed the US commitment to defend the South with a full range of its military capabilities in the event of war, Yoon's office said.
Their meeting also touched on Taiwan, with both reaffirming their countries' support for "peace and stability" in the Taiwan Strait, the office said.
They expressed concern over North Korea's threats of nuclear conflict and pledged an unspecified stronger response to major North Korean provocations, including a nuclear test.
Harris and Yoon were also expected to discuss expanding economic and technology partnerships, and repairing strained ties between South Korea and Japan to strengthen their trilateral cooperation with Washington in the region.
Harris' trip was organized so she could attend the state funeral of former Japanese prime minister Shinzo Abe, but her itinerary was dominated by security concerns, a reflection of fears about China's growing power and North Korea's ramped-up testing activity.
In every meeting, Harris tried to lay to rest any fears that the US was wavering in its commitment to protect its allies, describing US partnerships with South Korea and Japan as the "linchpin" and "cornerstone" of its defense strategy in Asia.
On the deck of a US warship in Japan, Harris also said that the US intends to deepen unofficial ties with Japan, calling the nation a "vibrant democracy."
Comments will be moderated. Keep comments relevant to the article. Remarks containing abusive and obscene language, personal attacks of any kind or promotion will be removed and the user banned. Final decision will be at the discretion of the Taipei Times.