US says Taiwan should be added to ICAO meeting
The US on Tuesday called for Taiwan's inclusion in the International Civil Aviation Organization (ICAO).
"We believe that all of international civil aviation's important stakeholders, particularly those who administer critical airspace, like Taiwan, should have the opportunity to participate meaningfully in ICAO's work," US Secretary of Transportation Pete Buttigieg said in a speech on the opening day of the agency's assembly in Montreal, the first time a high-ranking US official has publicly backed Taiwan's inclusion.
German Secretary of State for Digital and Transport Stefan Schnorr called on the UN agency to include all parties involved in civil aviation, including those that are not ICAO members, although he did not mention Taiwan by name.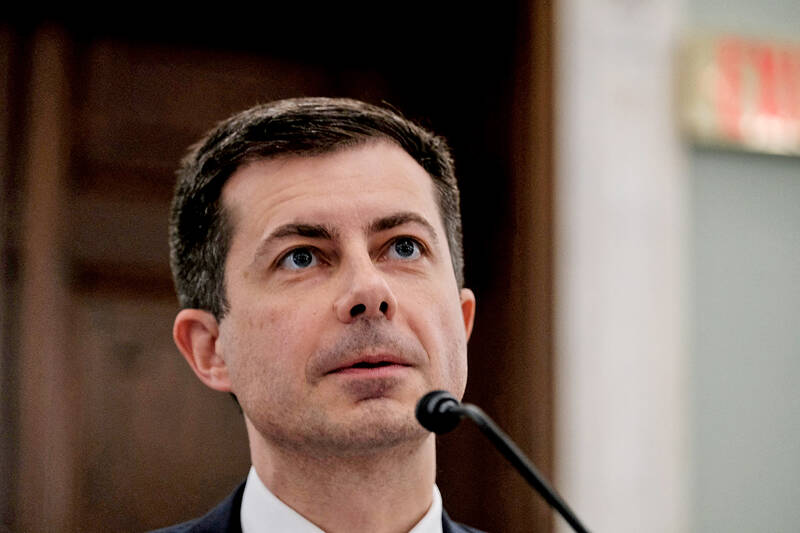 US Transportation Secretary Pete Buttigieg testifies before a Senate Commerce, Science, and Transportation Committee hearing on Capitol Hill in Washington, U.S., May 3, 2022.
Photo: Reuters
"We need to ensure aviation safety, security and facilitation as the main strategic objectives of ICAO by working closely together with all relevant partners, including cooperation with aviation nations and territories that are not members of ICAO," Schnorr said.
In Taipei, the Ministry of Foreign Affairs said that even though the German official did not specifically name Taiwan, it was grateful that Germany and the US had spoken up regarding inclusion on the first day of the assembly.
Taiwan has not been a UN member since the body in 1971 recognized the People's Republic of China as the sole representative of China and it has been unable to attend ICAO gatherings for many years.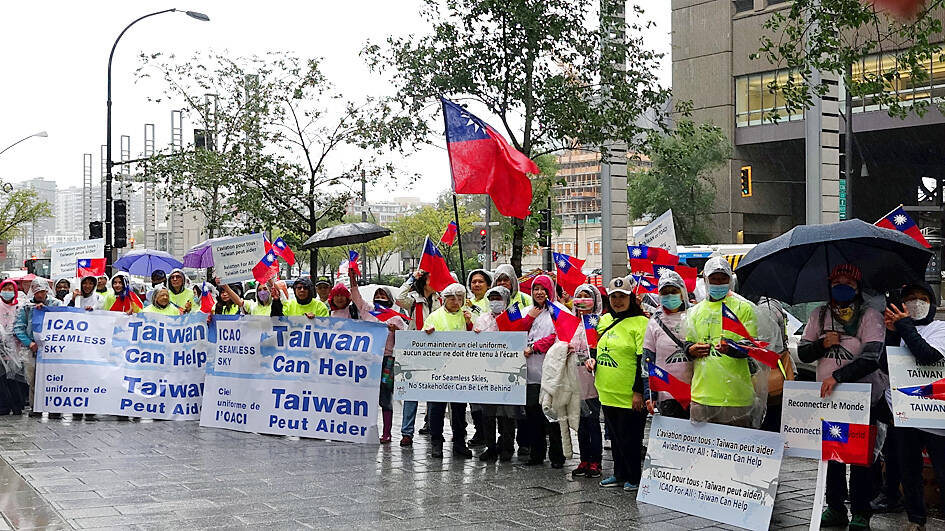 People in Montreal on Tuesday wave Taiwan flags and hold banners calling for the nation's inclusion in the International Civil Aviation Organization.
Photo: CNA
Taiwan last attended the event in 2013 as a guest of the agency's president, the first time that representatives from Taiwan had attended the gathering in 42 years, due to closer ties between Taiwan and China under the then-Chinese Nationalist Party (KMT) administration.
However, it has not been invited to the three meetings, including this year's, since President Tsai Ing-wen (蔡英文) of the Democratic Progressive Party took office in 2016.
The government has said that the Taipei Flight Information Region is one of the busiest routes in the world, and that Taiwan urgently needs direct communication channels with the ICAO to access the latest rules and regulations to safeguard air transportation safety.
One example of that was when Beijing early last month launched unprecedented live-fire drills in six maritime zones encircling Taiwan proper, Civil Aeronautics Administration (CAA) Director-General Lin Kuo-shian (林國顯) told a news conference last week.
China's military conducted naval and aerial drills from Aug. 4 to 7, and fired multiple ballistic missiles into waters near Taiwan after US House of Representatives Speaker Nancy Pelosi's 19-hour visit to Taiwan.
Due to the last-minute announcement of the drills, hundreds of passenger flights which flew into or near Taiwan were asked to take different routes or canceled, Lin said.
Given the lack of a direct communication channel with the ICAO, Taiwanese aviation authorities could only rely on talking directly to nearby flight information regions belonging to Japan and the Philippines to make the proper arrangements, he said.
To make clear Taiwan's stance despite not being invited, CAA Deputy Director-General Lin Jiunn-liang (林俊良) has led a delegation to Montreal to attend side events held by Taiwan's representative office in Canada to promote Taiwan's inclusion in the ICAO.
Meanwhile, about 100 overseas Taiwanese and Taiwan supporters held banners outside the ICAO's headquarters on Tuesday to call for the nation's inclusion in the organization.
Comments will be moderated. Keep comments relevant to the article. Remarks containing abusive and obscene language, personal attacks of any kind or promotion will be removed and the user banned. Final decision will be at the discretion of the Taipei Times.