President seeks help with diplomatic effort
BOOST FROM BUSINESSES: Donations from corporations to Ukraine and nations battling the COVID-19 pandemic would present Taiwan as a force for good, Tsai said
President Tsai Ing-wen (蔡英文) yesterday invited businesspeople to join the government's diplomatic efforts by showing Taiwan's economic strength and goodwill to the world.
Addressing the opening of the annual World Taiwanese Chambers of Commerce meeting at the Kaohsiung Marriott Hotel, Tsai called on entrepreneurs to expand their economic reach and face the challenges of the COVID-19 pandemic head on.
Donations from the business world to Ukraine and nations battling COVID-19 present Taiwan as a force for good, she said.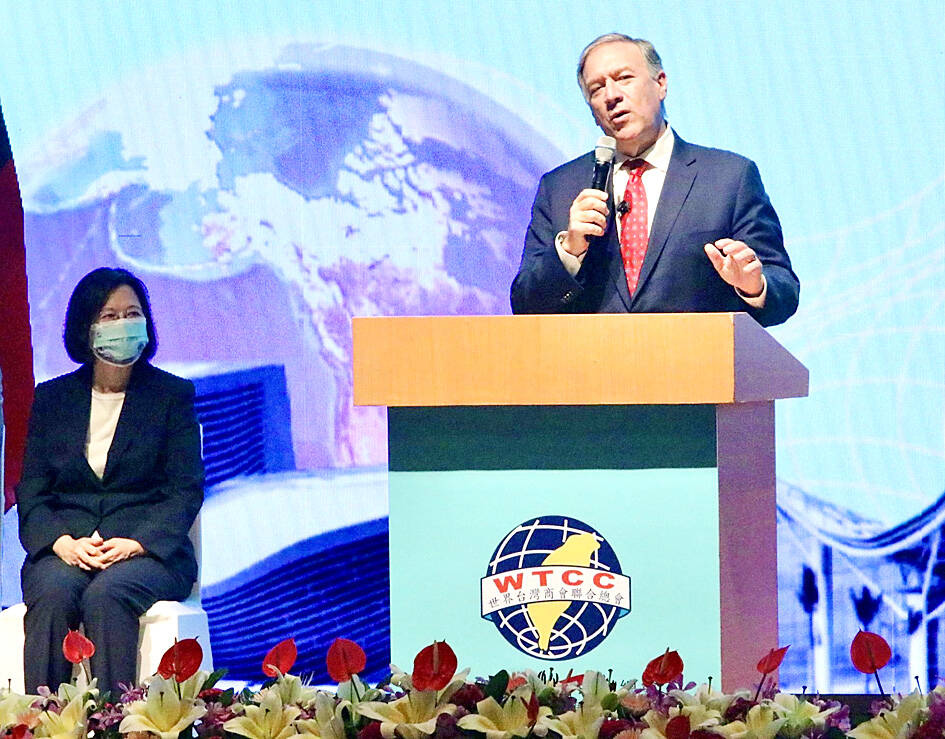 Former US secretary of state Mike Pompeo, right, speaks as President Tsai Ing-wen looks on at a meeting of the World Taiwanese Chambers of Commerce in Kaohsiung yesterday.
Photo: CNA
Welcoming former US secretary of state Mike Pompeo, who arrived late on Monday to meet with business leaders in Kaohsiung, Tsai said she never thought they would meet again so soon after his first visit in March.
By engaging with business leaders, Tsai said she is confident that both sides would learn a lot from each other.
In his address to the meeting, Pompeo rejected the description by some media of US House of Representatives Speaker Nancy Pelosi's visit to Taiwan and Taiwan's defense of its sovereignty as "provocative and threatening."
"We've seen your president and others in your country here in Taiwan talk about basic rights to defend their own sovereignty and make decisions for themselves," he said.
Many global news reports, in particular the "Chinese propaganda machine," would say such behavior is "provocative" and "threatening," but those reports were focused on the wrong target, he said.
"We should never forget who's threatening," Pompeo said. "It is not the great people of Taiwan. It is not the United States of America. The only threat to this region, the people who desire to upend what we know is right and decent and moral, is in fact the Chinese Communist Party."
He urged people to never "put moral equivalence on the table," and be clear and proud of that "for which each and every one of us stands."
Pompeo called on the US to ditch its long-term economic and trade engagements with China, and work more closely with Taiwan instead.
"We should all understand the risk associated with working alongside the Chinese Communist Party, but today, the Chinese Communist Party wants to change the way you live here," he said. "They want to change the way that people all throughout Southeast Asia live. They want to change the way that people inside of my country live."
The US and Taiwan do not need to rely on the Chinese market, as together they have the capacity, human capital, technology and goodwill to be successful, he said.
"When we build this for ourselves, for our companies, when we build it for freedom and peace, then one day, one day the people in the Chinese Communist Party will get to be part of that as well," he said. "I pray that that day is soon. I know that the work that we can collectively do together will hasten it."
Comments will be moderated. Keep comments relevant to the article. Remarks containing abusive and obscene language, personal attacks of any kind or promotion will be removed and the user banned. Final decision will be at the discretion of the Taipei Times.