World leaders pay respects to Abe
Former Japanese prime minister Shinzo Abe yesterday was given a state funeral that was full of military pomp and surrounded by throngs of mourners as well as by widespread protests.
Japanese Prime Minister Fumio Kishida said that the publicly financed ceremony was a well-deserved honor for Japan's longest-serving modern political leader, but it has deeply split public opinion.
The event was attended by US Vice President Kamala Harris, Japanese Crown Prince Akishino and other foreign and Japanese dignitaries, including a delegation from Taiwan.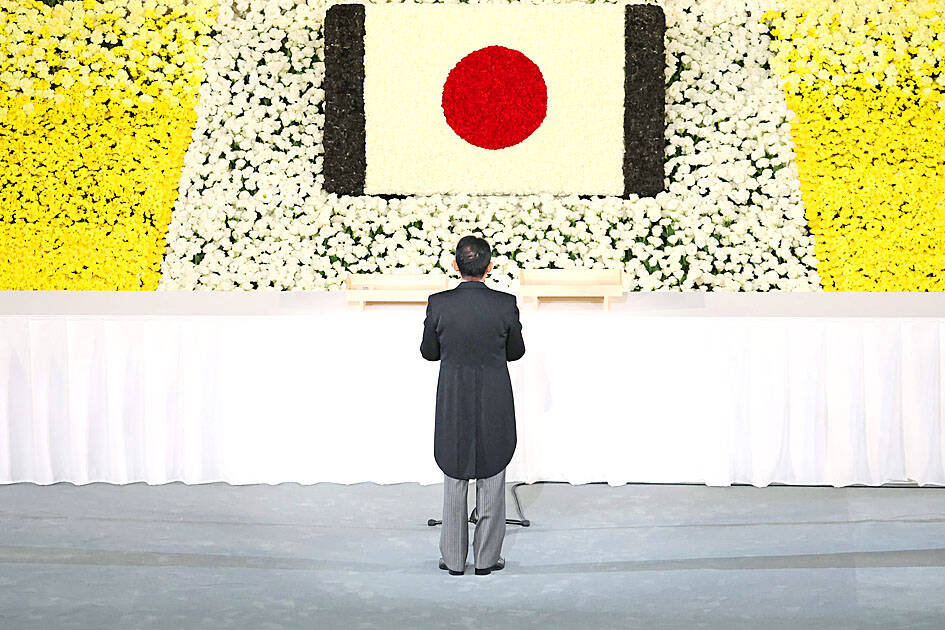 Japanese Prime Minister Fumio Kishida attends the state funeral for former prime minister Shinzo Abe at the Nippon Budokan in Tokyo yesterday.
Photo: AFP
It began with Abe's widow, Akie Abe, in a black formal kimono, walking slowly behind Kishida into the funeral venue, carrying an urn in a wooden box wrapped in a purple cloth with gold stripes.
Soldiers in white uniforms took Shinzo Abe's ashes and placed them on a pedestal filled with white and yellow chrysanthemums and decorations.
Attendants stood while a military band played the Kimigayo national anthem, then observed a moment of silence before a video was shown praising Shinzo Abe's life in politics.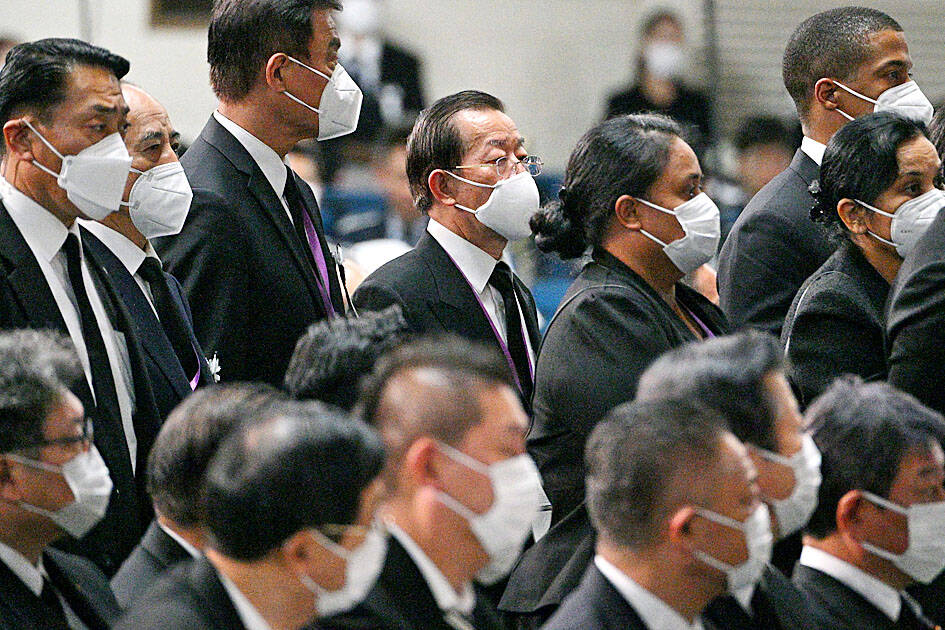 Former legislative speakers Su Jia-chyuan, third left, standing, Wang Jin-pyng, second left, standing, and Representative to Japan Frank Hsieh, top center, line up to pay their respects during the state funeral for former Japanese prime minister Shinzo Abe at the Nippon Budokan in Tokyo yesterday.
Photo: Reuters
It included his 2006 parliamentary speech vowing to build a "beautiful Japan," his visits to disaster-hit northern Japan after the March 2011 tsunami and his 2016 Super Mario impersonation in Rio de Janeiro to promote the 2020 Tokyo Olympics.
Kishida, in a 12-minute eulogy, praised Shinzo Abe as a politician with a clear vision for post-World War II economic growth who promoted national security, the development of Japan and the world and a "free and open Indo-Pacific" as a counter to China's rise.
Kishida said that Shinzo Abe would be remembered not just as the nation's longest-serving leader but for what he achieved, and he pledged to carry on his policies for Japan and the region.
Tokyo was under high security for the state funeral, especially near the venue, the Nippon Budokan.
At a protest in downtown Tokyo, thousands of people marched toward the hall, some banging drums and many shouting or holding banners and signs stating their opposition.
"Shinzo Abe has not done a single thing for regular people," protester Kaoru Mano said.
Japan's main political opposition parties boycotted the funeral, which critics say was a reminder of how prewar imperialist governments used state funerals to fan nationalism.
The government said that the ceremony was not meant to force anyone to honor Shinzo Abe, but the decision to give him the honor, which was made without parliamentary debate or approval, the high cost and other controversies have led to anger about the event.
The Taiwanese delegation consisted of two former legislative speakers, Su Jia-chyuan (蘇嘉全), who is chairman of the Taiwan-Japan Relations Association, and Wang Jin-pyng (王金平) of the Chinese Nationalist Party (KMT), as well as Representative to Japan Frank Hsieh (謝長廷).
In addition to the delegation, Annie Lee (李安妮), the daughter of former president Lee Teng-hui (李登輝) and chairwoman of the Lee Teng-hui Foundation, attended at the invitation of Shinzo Abe's family.
Annie Lee has described the bonds shared between her father and Shinzo Abe as similar to the relationship between a father and son, because both cared tremendously about each other's physical and mental health, as well as their families.
Additional reporting by CNA
Comments will be moderated. Keep comments relevant to the article. Remarks containing abusive and obscene language, personal attacks of any kind or promotion will be removed and the user banned. Final decision will be at the discretion of the Taipei Times.