Putin's bid to formalize annexation draws condemnation
Russia's partial mobilization and the planned referendums in occupied parts of Ukraine would not dampen Berlin's military backing for Kyiv, German Minister of Defense Christine Lambrecht said yesterday.
"Rather, this reaction from [Russian President Vladimir] Putin to Ukraine's successes spurs us on to continue to support Ukraine and send this clear signal," she said in Berlin after a meeting with her French counterpart.
The statement followed a harsh warning by Putin, who on Wednesday declared that he would not hesitate to use nuclear weapons to protect Russian territory, a threat that comes as Moscow is poised to annex swaths of Ukraine that Moscow has taken over after hastily called referendums there.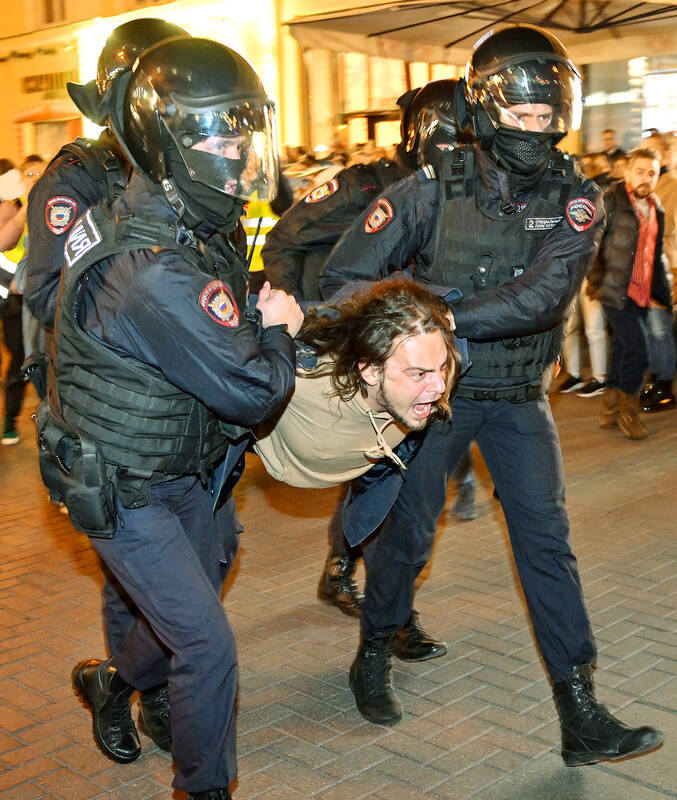 Police officers detain a protester at a rally in Moscow on Wednesday against a partial mobilization announced by Russian President Vladimir Putin.
Photo: AFP
While the West has heard such rhetoric from Putin before, the circumstances are starkly different.
The Kremlin has orchestrated referendums in the occupied areas of Ukraine that are set to start today.
Residents would be asked whether they want to become part of Russia — a vote international experts think would go Moscow's way, as it would not be free and fair.
That means Russia could absorb those lands as early as next week.
Putin then raised the stakes by announcing a nationwide partial mobilization and vowed to use "all available means" to deter future attacks against Russian territory — a reference to the country's nuclear arsenal in a chilling new round of brinkmanship.
Some observers see Putin's move to annex Ukrainian territory along with the mobilization and renewed nuclear threats as a last-ditch attempt to force Ukraine and its Western backers into accepting the "status quo" after a successful Ukrainian counteroffensive earlier this month.
Tatiana Stanovaya, an independent political expert who follows the Kremlin's decisionmaking, described Putin's rushed moves on the referendums as a pretext for upping the ante.
"This is a blunt Russian ultimatum to Ukraine and the West: Ukraine must back off or there will be a nuclear war," Stanovaya said. "For Putin, the annexation would legitimize the right to resort to nuclear threats to protect the Russian territory."
In a televised address to the nation, Putin said Moscow's nuclear arsenal is more modern than NATO's and declared his readiness to use them.
"This is not a bluff," Putin added somberly in an apparent reference to those in the West who described his earlier nuclear threats as a blustery attempt to weaken the international support for Ukraine.
Russian military doctrine envisages the use of atomic weapons in response to a nuclear attack or aggression involving conventional weapons that "threatens the very existence of the state," vague wording that offers ample room for interpretation.
Comments will be moderated. Keep comments relevant to the article. Remarks containing abusive and obscene language, personal attacks of any kind or promotion will be removed and the user banned. Final decision will be at the discretion of the Taipei Times.