Man sets himself on fire outside Japan PM's office
A man yesterday set himself on fire near the Japanese prime minister's office in Tokyo in an apparent protest against the state funeral planned next week for former Japanese prime minister Shinzo Abe, officials and media reports said.
The man, believed to be in his 70s, sustained burns on large parts of his body, but was conscious and told police that he set himself on fire after pouring oil over himself, Kyodo News reported.
A note was found with him that said: "Personally, I am absolutely against" Abe's funeral, Kyodo reported.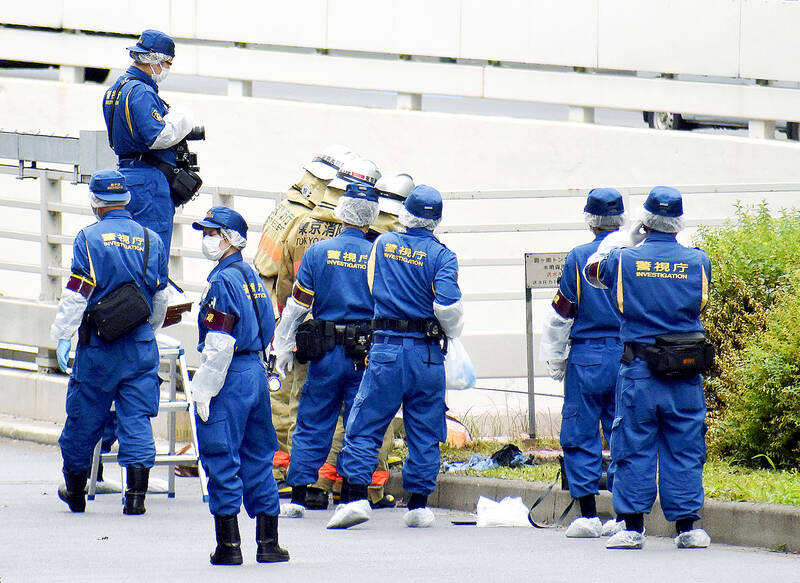 Police officers and firefighters investigate the site where a man who was apparently protesting a state funeral for former Japanese prime minister Shinzo Abe set himself on fire in Tokyo yesterday.
Photo: Kyodo via Reuters
A Tokyo Fire Department official confirmed that a man set himself afire on a street in Tokyo's Kasumigaseki District and that he was alive when he was taken to a hospital by an ambulance, but declined to give further details, including the man's identity, motive or condition, citing the sensitivity of what was a police matter.
Police called it an attempted suicide and refused to give further details because the case involved "no criminal intent." Police also declined to comment on a report that a police officer was caught in the fire.
The incident underscores a growing wave of protests against the funeral for Abe, who was one of the most divisive leaders in post-World War II Japanese politics because of his revisionist view of wartime history, support for a stronger military, and what critics call an autocratic approach and cronyism. More protests are expected in coming days, including the day of the funeral next week.
It is also an embarrassment for police, who have stepped up security for an event expected to be attended by about 6,000 people, including US Vice President Kamala Harris and other dignitaries.
Comments will be moderated. Keep comments relevant to the article. Remarks containing abusive and obscene language, personal attacks of any kind or promotion will be removed and the user banned. Final decision will be at the discretion of the Taipei Times.