CECC mulling end to travel quarantine
ONLINE RUMORS: A leaked CECC document showed that Oct. 10 was a possible date being considered for ending isolation requirements, but the center said it is just a draft
The Central Epidemic Command Center (CECC) yesterday said that it is considering eliminating quarantine for travelers from next month, but "chances are slim" that the change would come early in the month.
The center was responding to a table of "suggestions on border control and opening" that had been circulating online, outlining two stages, with a first stage that would have been announced on Monday taking effect on Sept. 26, while the second stage would have been announced on Oct. 3 to take effect on Oct. 10.
According to the table, the first stage would require all inbound travelers to undergo a three-day home quarantine followed by a four-day monitoring period, but the "one person per household" principle during the first three days would be eased to "one person per room."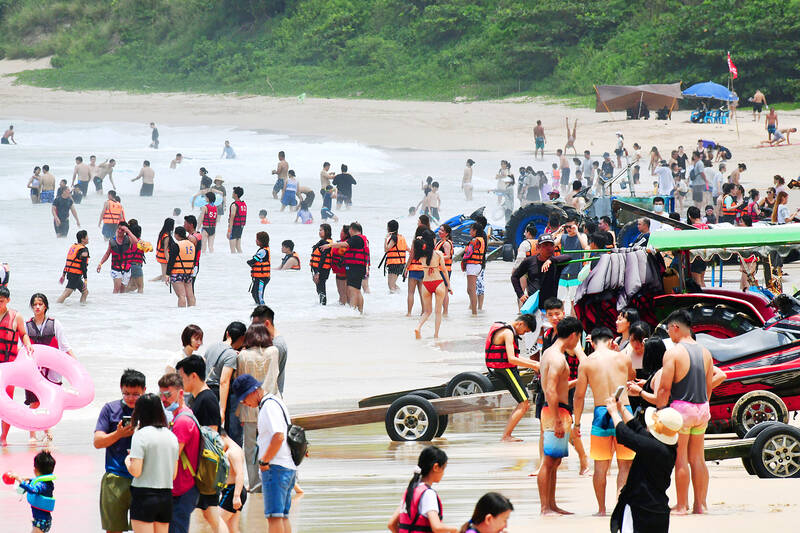 Tourists visit a beach in Pingtung County on Thursday.
Photo: Tsai Tsung-hsien, Taipei Times
The table shows that the rule would have been further relaxed to a seven-day monitoring period with no home quarantine required at the second stage.
Centers for Disease Control (CDC) Deputy Director-General Chuang Jen-hsiang (莊人祥), who is CECC spokesman, said that the table was a draft plan and would be adjusted.
Deputy Minister of Health and Welfare Victor Wang (王必勝), who heads the CECC, said that the center has been discussing the border opening plan with other ministries as the COVID-19 situation is gradually being brought under control worldwide.
The timing to open the border depends on COVID-19 caseloads, which have topped 40,000 cases for four consecutive days, he said.
The center estimates that the outbreak's peak might be reached within the next two weeks, he said.
Ministries and the public need time to prepare for the many changes a border reopening would bring, he said.
Commenting on rumors that the ban on outbound tour groups would also be lifted next month, and that the inbound traveler cap would be raised to 20,000 per day, Wang said that regulations regarding such limitations — along with visas, quarantine hotels and disease prevention taxis — must be contemplated further before easing border controls.
Separately, the first shipment of the second-generation Moderna bivalent COVID-19 vaccine containing 804,000 doses arrived in Taiwan yesterday evening, Wang said, adding that the expiry date is March 29 next year.
The vaccine targets the original 2019 strain of SARS-CoV-2 and the Omicron subvariant BA.1, and has been shown to protect against the BA.2 and BA.5 subvariants.
Wang said the vaccines are to be distributed to local governments from Saturday next week, and that people aged 65 or older and immunocompromised adults would be the first to receive it as a booster.
Those at high risk of contracting COVID-19 — including people aged 50 to 64, adults who need to travel overseas, and workers in airports and medical facilities — would be the next priority group, he said.
Another shipment of about 800,000 doses is due to arrive tomorrow.
The CECC announced 46 deaths from COVID-19 and 41,430 new domestic cases yesterday.
The deceased ranged in age from 30 to older than 90, and all had underlying health issues such as cancer or kidney-related diseases, CECC data showed.
Comments will be moderated. Keep comments relevant to the article. Remarks containing abusive and obscene language, personal attacks of any kind or promotion will be removed and the user banned. Final decision will be at the discretion of the Taipei Times.