Novel coronavirus likely in Wuhan: CDC
China has identified a new type of coronavirus as the likely cause of an outbreak of a pneumonia-like illness, but the disease has a low chance of person-to-person transmission, the Centers for Disease Control (CDC) said yesterday.
Chinese scientist Xu Jianguo (徐建國) told Xinhua news agency that experts had "preliminarily determined" a new type of coronavirus was behind the outbreak, which was first confirmed on Tuesday last week in Wuhan, a central Chinese city with a population of more than 11 million.
Evidence suggests that the new virus' primary mode of transmission is animal-to-human, with a much lower chance of person-to-person transmission, CDC physician Huang Wan-ting (黃婉婷) told a news conference in Taipei, adding that people should not panic, as it does not resemble measles, which can spread easily through contact with an infected person.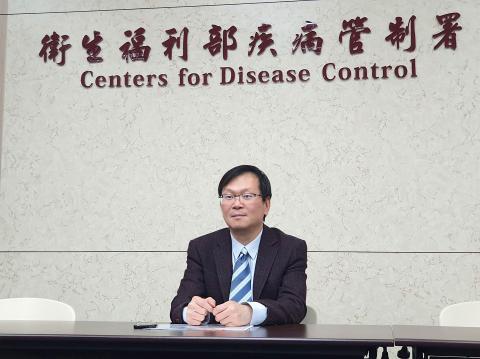 Centers for Disease Control Deputy Director-General Chuang Jen-hsiang speaks at a news conference in Taipei yesterday.
Photo: CNA
There are more than 10 known coronaviruses, six of which affect humans, she said.
Some cause mild respiratory and gastrointestinal infections, while others can lead to severe diseases such as SARS and Middle East respiratory syndrome, she added.
Coronaviruses are common, with mammals, including humans, being their main hosts, Huang said, adding that they are usually transmitted through bigger saliva droplets and a few through airborne particles.
However, the new virus likely responsible for the Wuhan epidemic is different from known coronaviruses, she said, adding that while the evidence indicates that it poses a lower risk to humans, further scientific research is still required to fully understand it.
The global community needs China to disclose more data to help other nations identify the exact hosts of the new virus and conduct accurate risk assessments, she said.
A total of 10 people traveling on flights between Wuhan and Taiwan have been identified as possibly infected, CDC officials said, adding that while one person was hospitalized after exhibiting a fever, coughing and a runny nose, the rest are stable and do not need to be hospitalized.
Local health bureaus would follow up on the other nine, they said.
Additional reporting by AFP and AP
Comments will be moderated. Keep comments relevant to the article. Remarks containing abusive and obscene language, personal attacks of any kind or promotion will be removed and the user banned. Final decision will be at the discretion of the Taipei Times.