DPP slams KMT for opposing anti-infiltration bill
The Democratic Progressive Party (DPP) yesterday criticized the Chinese Nationalist Party's (KMT) opposition of its anti-infiltration bill, saying that the pan-blue camp's stance on the issue runs against the international community's mainstream consensus.
It has been well-established in Taiwan, as well as in the international community, that there is a need to protect democracy from infiltration by authoritarian powers, DPP Deputy Secretary-General Lin Fei-fan (林飛帆) told a news conference in Taipei.
However, the KMT has been opposing the DPP's efforts to counter Chinese infiltration, he said.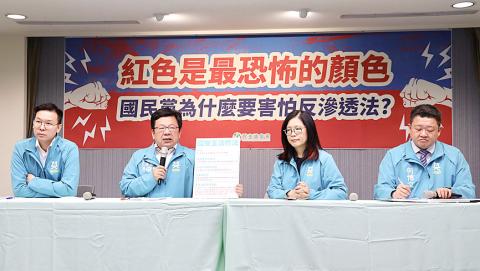 From left, Democratic Progressive Party (DPP) Deputy Secretary-General Lin Fei-fan, DPP legislators Lee Chun-yi and Kuan Bi-ling, and DPP spokesman and New Taipei City Councilor Ho Po-wen attend a news conference in Taipei yesterday.
Photo: CNA
While the DPP and the New Power Party have proposed three versions of anti-infiltration legislation since May, the KMT has not contributed any, Lin said.
If the KMT considers it important to fight infiltration, it should submit its own version, he said.
Retired lieutenant general Wu Sz-huai (吳斯懷), who is on the KMT's list of legislator-at-large nominees, would have access to confidential national security information if the KMT garners more than 1.5 million votes in the Jan. 11 legislative election, he added.
Wu sparked controversy in 2016, when he attended a speech in Beijing by Chinese President Xi Jinping (習近平) and stood for a rendition of the Chinese national anthem.
The legislation would provide important protection for Taiwan's democracy and would require support from all legislators across party lines, Lin said.
At planned cross-caucus negotiations, the DPP is to drop its proposal for the Legislative Yuan to enter a recess from Dec. 18, because a break could postpone reviews of the legislation if the KMT votes against it in today's legislative session, DPP Legislator Kuan Bi-ling (管碧玲) said.
The DPP plans to propose at today's session a second reading of its version of the legislation without going through committee review, she said.
Earlier yesterday, the Legislative Yuan's Internal Administration Committee held a public hearing on the legislation.
National Policy Foundation adviser Charles Chen (陳以信), who is also on the KMT's list of legislator-at-large nominees, said at the hearing that the DPP was attempting to force through its version of the bill.
As the Executive Yuan would be responsible for implementing the legislation if it becomes law, it should offer its opinion on the bill or submit its own version, he said.
KMT Central Policy Committee deputy director Wu Yu-sheng (吳育昇) said that the DPP's version of the bill might infringe upon human rights and freedom of the press.
It is inappropriate for the ruling party to propose such a controversial law shortly before it could be voted out of power, he said.
Expedited passage of legislation does not mean the process was reckless, Chien Hsin University of Science and Technology Department of Business Administration professor Yen Chien-fa (顏建發) said, adding: "It is the content that matters."
The bills address an urgent need to resist China's interference in Taiwan's elections, he said.
While they might not be perfect, it is important that the government have legislation in place to make people feel safe, he added.
Comments will be moderated. Keep comments relevant to the article. Remarks containing abusive and obscene language, personal attacks of any kind or promotion will be removed and the user banned. Final decision will be at the discretion of the Taipei Times.