Last batch of compulsory recruits near discharge
DISMISSED: The winding down of compulsory service would be completed when the final 412 soldiers from the army, navy, marines and the air force are discharged
Compulsory military service is to end after 67 years, with the last military personnel conscripted under the system to be discharged on Wednesday next week.
Those enlisted under the compulsory system were required to serve for a year, but as the nation transitions toward an all-volunteer military system, men born after 1994 had to undergo only four months of training.
The government implemented the compulsory military system in 1951.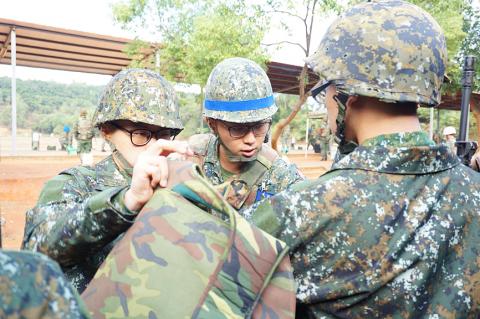 Squad leader Lee Ya-che, center, one of the last recruits enlisted under the compulsory military service system, trains with comrades in Taipei yesterday.
Photo: Aaron Tu, Taipei Times
Since 1954, most army personnel were required to serve for two years, while those in the navy, air force and a special army unit had to serve for three years.
In 1981, compulsory enlistment was changed to two years for all personnel.
The conscription period was further reduced in 1991, when the two-year requirement was changed to 1 year, 10 months.
In August that year, the government also introduced alternative military service.
From 2004 to 2007, the conscription period was reduced by two months every year and in 2008 cut to one year.
More than 780,000 men have completed one-year compulsory military service since July 2008, Ministry of National Defense data showed.
Even after the December 2013 reduction to four months for men born after 1994, men born before Dec. 31, 1993, were still required to complete one year of service.
Soldiers in the final batch are made up of 299 army personnel, 39 navy personnel, 41 marines and 33 air force personnel for a total of 412, the data showed.
Comments will be moderated. Keep comments relevant to the article. Remarks containing abusive and obscene language, personal attacks of any kind or promotion will be removed and the user banned. Final decision will be at the discretion of the Taipei Times.