Nearly 4,000 gay couples registered as partners
LOCAL APPLICATION: Registering as a same-sex couple does not grant the same rights as marriage, DPP Legislator Yu Mei-nu said, urging full equality
A total of 3,951 same-sex couples have registered as partners since local governments began accepting their household registrations in 2015, with Taipei, New Taipei City and Taichung leading in the number of registrations, Ministry of the Interior data showed.
Kaohsiung on May 20, 2015, became the first city to allow same-sex couples to register as partners at household registration offices. Since then, 18 of the nation's 22 cities and counties have introduced a partnership registration scheme for same-sex couples, and have begun accepting applications from other cities and counties.
As of last month, 1,061 same-sex couples had registered as partners nationwide, while 1,201 registered last year, and 1,417 registered in 2016 and 2015.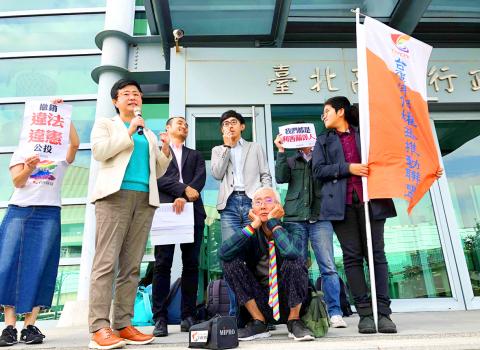 Taiwan Alliance to Promote Civil Partnership Rights director Victoria Hsu, speaking, accompanied by lawyer Pan Tien-ching, third right, standing, and gay rights advocate Chi Chia-wei, squatting, hold a news conference outside the Taipei High Administrative Court on Thursday.
Photo: CNA
Most of the registrations took place in the six special municipalities — 818 in Taipei, 743 in New Taipei City, 694 in Taichung, 442 in Taoyuan, 238 in Tainan and 173 in Kaohsiung.
All 18 cities and counties, except Matsu, have received applications for same-sex partnerships.
Hualien, Taitung, Yunlin and Penghu counties have yet to accept household registration of same-sex couples.
Democratic Progressive Party (DPP) Legislator Yu Mei-nu (尤美女), a marriage equality advocate, said that same-sex couples' willingness to register their partnership depends on the rights granted by the local governments.
Although many cities and counties allow same-sex couples to register as partners, such partnerships provide fewer rights than marriage, Yu said, adding that only by legalizing same-sex marriage will gay couples be given full rights.
Taiwan does not recognize same-sex marriage.
The Council of Grand Justices in May last year ruled that same-sex couples have the right to legally marry and set a two-year deadline for legalization.
However, in five referendums held alongside the local elections on Nov. 24, a majority of voters rejected legalizing same-sex marriage by amending the Civil Code, casting doubt over whether full marriage equality would be realized in Taiwan.
Comments will be moderated. Keep comments relevant to the article. Remarks containing abusive and obscene language, personal attacks of any kind or promotion will be removed and the user banned. Final decision will be at the discretion of the Taipei Times.