DPP 'factions' not turning on Tsai
NOT SO FAST: The Northern Taiwan Society chairman said the president being the party's candidate in 2020 is not a foregone conclusion, but that many expect Lai to run
The Democratic Progressive Party (DPP) yesterday denied that so-called factions are distancing themselves from President Tsai Ing-wen (蔡英文), the party's former chairperson, or trying to force her out of power.
Deputy Legislative Speaker Tsai Chi-chang (蔡其昌) made the remarks during an exclusive interview with Clara Chou (周玉蔻) on her morning show, Coco Breakfast (蔻蔻早餐).
Tsai Chi-chang denied that earlier comments he made were the former New Tide faction's — of which he is a member — attempt to distance themselves from the president and to force her out of power.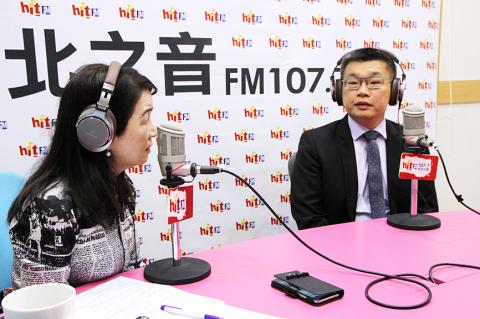 Hit FM radio host Clara Chou, left, interviews Deputy Legislative Speaker Tsai Chi-chang on her morning show yesterday.
Photo courtesy of Hit FM
He on Monday said that Premier William Lai (賴清德) and Presidential Office Secretary-General Chen Chu (陳菊) — both members of the faction — would step down at an appropriate time.
The 2008 presidential elections taught the DPP the importance of unity and the party fully supports the president, Tsai Chi-chang said, adding that he supports Tsai Ing-wen running for re-election in 2020.
"No faction could stand alone if the party itself goes down; we are a single entity," he added.
Tsai Ing-wen's leadership could use more speedy decisionmaking and she should take the lead to communicate the party's goals to the public, instead of spending so much time on policy research, Tsai Chi-chang said.
He made the suggestions to the president in private, he said, adding: "She listened attentively."
While Lai feels responsible for the party's losses in the Nov. 24 elections, there are many pressing issues left to resolve, such as a review of the budget for Executive Yuan-affiliated agencies and next year's national budget, Tsai Chi-chang said.
A definitive time frame for Lai's departure would only stall Cabinet proceedings, leading to a lack of progress, he said.
"Lai will state his own mind once these official affairs have concluded," Tsai Chi-chang said, adding that to his knowledge, Lai has no intention of running for party chairman and has reiterated that he would not be running for the presidency in 2020.
Tsai Chi-chang said that he personally recommended Minister of Culture Cheng Li-chun (鄭麗君) to run for party head, but Cheng had not given him a definitive answer when he contacted her about the issue.
In an interview with the Liberty Times (the sister newspaper of the Taipei Times) later yesterday, Northern Taiwan Society chairman Lee Chuan-hsin (李川信) said that there are still two years to the next presidential election and the DPP should not jump to conclusions about its presidential nominee.
Many pan-green supporters see Tsai Ing-wen as the primary cause for the party's defeat in last month's elections, which has generated doubt in the pan-green camp about her being the DPP's candidate in 2020, he said.
Lee said that many pro-local groups and pan-green supporters he has spoken with expect Lai to run for president.
It is entirely possible that Tsai Ing-wen chooses to back out of the election, Lee said, adding that should Lai step down after the Legislative Yuan passes the central government budget for fiscal 2019 next month, there is still a chance for him to build his support for a potential 2020 presidential campaign.
Additional reporting by Lee Hsin-fang
Comments will be moderated. Keep comments relevant to the article. Remarks containing abusive and obscene language, personal attacks of any kind or promotion will be removed and the user banned. Final decision will be at the discretion of the Taipei Times.