Labor activist arrested after city hall attack
BRAZEN MOVE: Lee Ming-yen bragged about his assault of a commissioner on Facebook, saying that he planned to hold a news conference to expose corruption
Labor rights activist Lee Ming-yen (李明彥) was yesterday afternoon arrested at Xinpu MRT Station in New Taipei City's Banciao District (板橋), after he on Wednesday afternoon charged into Taipei Department of Labor Commissioner Lai Hsiang-lin's (賴香伶) office in Taipei City Hall and allegedly attacked her with a steel bar.
Lee was sent to the district prosecutors' office and charged with assault and obstructing official duty, after which he was detained, the Taipei Police Department said.
Police said Lee left the building through a side door, bragged about his assault on Facebook and stated the intent to hold a news conference today at 11am to expose alleged corruption and contraventions of the Labor Standards Act (勞動基準法) committed by Taipei Rapid Transit Corp.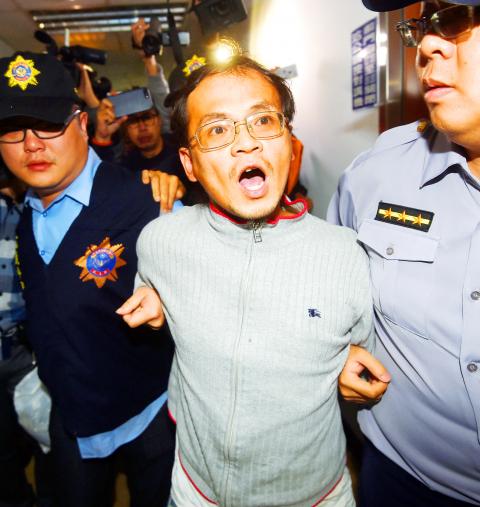 Labor rights activist Lee Ming-yen is escorted by police in Taipei yesterday afternoon.
Photo: Fang Pin-chao, Taipei Times
Lee was prosecuted on Jan. 31 after posting the message: "Kill [Taipei Mayor] Ko Wen-je (柯文哲), kill judges, kill civil servants," on Lai's Facebook page. On Aug. 3 he was found guilty of intimidation and sentenced to two months in prison.
Lee stated in court at the time that he would "be violent toward [city] government officials if he was found guilty," police said.
Lai was injured near one of her eyebrows and received 11 stitches, Hsiao Sheng-huang (蕭勝煌), the superintendent of Taipei City Hospital's Renai branch, said, adding that the wound should heal in a week, and she had no sign of concussion or internal bleeding.
Ko visited Lai at the hospital on Wednesday night, while city government spokesman Liu Yi-ting (劉奕霆) said the city government would press charges against Lee.
Meanwhile, Minister of Labor Hsu Ming-chun (許銘春) yesterday said that free speech is expected in a democratic society, but opinions should be expressed rationally, and any act of violence should be condemned.
Hsu pledged to address the issues that upset Lee — dispatch workers being exploited and their rights being infringed, as well as a lack of legal accountability for dispatch agencies in the event of accidents — in a draft bill expected to be proposed during the next legislative session.
"While many have said we should have a dedicated law governing dispatch labor, I am at this time against drafting a dedicated law. My primary reason for opposing that is that I hope the practice of dispatch labor will cease entirely," Hsu said.
The Ministry of Labor intends to amend the Labor Standards Act and the Occupational Safety and Health Act (職業安全衛生法), she said, adding that the proposed amendment would take the form of addendums, including clauses that would ensure fair wages for dispatch workers and formal employees doing the same job for a company, Hsu said.
The issue of whether the dispatch agency should share some of the legal liabilities or should be fined directly would be discussed, she added.
Additional reporting by Yao Yueh-hung, Huang Chien-hao and Liao Chien-ying
Comments will be moderated. Keep comments relevant to the article. Remarks containing abusive and obscene language, personal attacks of any kind or promotion will be removed and the user banned. Final decision will be at the discretion of the Taipei Times.