Upgraded F-16V arrives, three more due by year's end
The air force yesterday received its first upgraded Lockheed Martin F-16V, the latest variant of the jet, at the Shueishang Airbase in Chiayi County, with three more expected to arrive by the end of the year.
The air force has budgeted NT$129.6 billion (US$4.18 billion) for Aerospace Industrial Development Corp (漢翔航空工業) and US-based Lockheed Martin Corp to upgrade its 143 F-16A/Bs to F-16V standard.
The jet received yesterday had completed hardware and software upgrades in June, and was first spotted by aviation enthusiasts after it began flight tests at the end of August, sources said.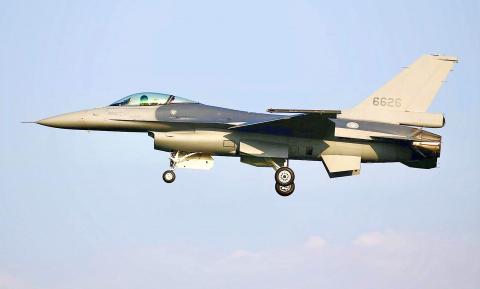 An F-16 jet flies to the Shueishang Airbase in Chiayi County yesterday following its upgrade to the F-16V standard.
Photo: Yu Tai-lang, Taipei Times
News at the time drew great concern from the Ministry of National Defense and the US, sources said, adding that a full-scale investigation of intelligence and counter-espionage systems were launched to identify the leak.
The air force said it expects that the upgrades would complete outfitting 20 to 24 jets per year until 2022.
Most of the F-16V jets would be repainted and their markings would be refurbished in Shueishang and at the Sincheng Airbase in Hualien County after they arrive to prevent spies from identifying which planes have been upgraded, the air force said.
Since the purchase of 150 F-16A/B jets in 1992, the plane has become the air force's primary fighter in terms of air-to-air, air-to-sea and air-to-surface defenses.
With the growing disparity of air forces on either side of the Taiwan Strait, the US in 2011 agreed to upgrade Taiwan's F-16s to one of the most advanced variants of the F-16 family, sources said.
Outfitted with an AN/APG-83 active electronically scanned array and a new modular mission computer, the F-16V has an improved radar detection range and multi-target engagement capability, the ministry said.
The fighters are to have a helmet-mounted cue system linked to AIM-9X Sidewinder heat-seeking missiles, giving pilots the ability to "see and shoot," it said.
Other advanced weapons the F-16Vs are to carry include the AGM-154C joint standoff weapon — or glide bomb — and AGM-88B high-speed anti-radiation missiles, it added.
Comments will be moderated. Keep comments relevant to the article. Remarks containing abusive and obscene language, personal attacks of any kind or promotion will be removed and the user banned. Final decision will be at the discretion of the Taipei Times.