Chinese agency spreading 'fake' news
DESTABILIZATION: A PTT post claiming Honduras would sever ties with Taiwan was traced to a disinformation mill apparently being sponsored by the Chinese government
Beijing has established a government agency charged with disseminating disinformation in Taiwan for the purposes of influencing public morale and causing rifts within society, a source at a national security agency has said.
The confirmation came after President Tsai Ing-wen's (蔡英文) Double Ten National Day speech in which she described the need for alertness in the face of widespread disinformation.
China's use of "fake" news has also been recognized by Japanese media, including the Sankei Shimbun, the Yomiuri Shimbun and the Asahi Shimbun.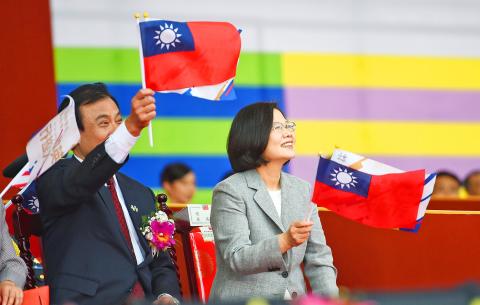 President Tsai Ing-wen, right, waves Republic of China flags at Double Ten National Day ceremony in front of the Presidential Office Building in Taipei on Wednesday last week.
Photo: Liu Hsin-de, Taipei Times
The newspapers all described as fake news Chinese reports of buses dispatched by the Chinese consulate in Osaka to pick up passengers stranded at Kansai International Airport following Typhoon Jebi early last month.
Following the reports it was discovered that a post on Professional Technology Temple (PTT) — the nation's largest online bulletin board — allegedly from a disgruntled Taiwanese passenger was actually posted by a Chinese user after the IP address was traced to Beijing.
The post was attributed to a Chinese government task force responsible for destabilizing the Tsai administration by spreading disinformation on everyday issues through social media and other online platforms, the source said.
The Chinese government provides financial rewards for any fake news posts picked up by Taiwanese media, the source said.
Tsai has expressed interest in collaborating with foreign governments to establish a mechanism for tracking and responding to the threat from fake news, the source said, adding that the president's raising of the issue in her national day speech was evidence of the seriousness of the matter.
The prevalence of social media platforms has exacerbated the spread of misinformation and created even more divisions within Taiwanese society, which was already divided by pan-blue and pan-green partisanship, the source said.
One post on PTT in May, shortly after the severing of diplomatic ties between Taiwan and Burkina Faso, had claimed that Honduras was in talks with Beijing and would also sever ties with the nation.
The post, which caused uproar on social media, was later traced to a Chinese disinformation mill apparently being sponsored by the Chinese government, the source said.
Addressing the threat of systematic dissemination of disinformation from a single source nation demands immediate action, international cooperation and assistance from the public, the source said.
Having information audited by a third party that would inform the public of false information is one possible solution, while another is to have a government agency monitor online information and respond to it through legal systems and institutions, the source said.
Comments will be moderated. Keep comments relevant to the article. Remarks containing abusive and obscene language, personal attacks of any kind or promotion will be removed and the user banned. Final decision will be at the discretion of the Taipei Times.