Pope says he will pray for Taiwan: vice president
Pope Francis sent his regards to President Tsai Ing-wen (蔡英文) and said that he will pray for Taiwan, Vice President Chen Chien-jen (陳建仁) said yesterday.
Chen is leading a Taiwanese delegation on a four-day visit to the Holy See to attend the canonization ceremony for pope Paul VI and assassinated Salvadoran archbishop Oscar Arnulfo Romero, as well as five lesser-known figures.
Chen said he extended Tsai's invitation to Francis to visit Taiwan during a scheduled trip to Japan next year.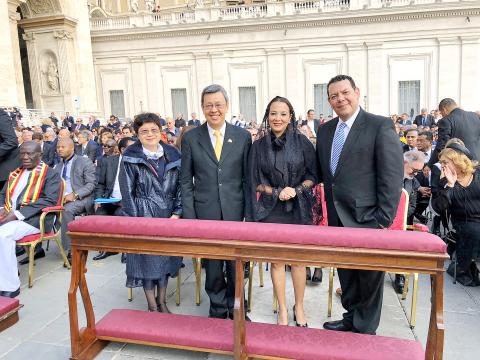 Vice President Chen Chien-jen, second left, and Honduran Vice President Olga Alvarado, second right, pose for a picture outside St Peter's Basilica in the Vatican yesterday.
Photo courtesy of the Presidential Office
However, he did not disclose whether the pope accepted the invitation.
Chen said he also gave Francis a documentary telling the life of Taiwan-based Jesuit priest Andres Diaz de Rabago, a 102-year-old Spaniard who served in Taiwan for more than 50 years as a medical practitioner and instructor.
De Rabago was last year granted Republic of China citizenship.
Francis, who is the first Jesuit pope, said he knows that the Jesuits are doing a great job in Taiwan, Chen said.
Before the ceremony, Chen met with Honduran Vice President Olga Alvarado, who was also attending the event, and they exchanged greetings and took photographs.
Honduras is one of Taiwan's 17 diplomatic allies.
Chen's visit came only weeks after the Vatican and Beijing signed a provisional agreement on the appointment of bishops in China, which raised concerns that it would lead to the Vatican switching diplomatic recognition to Beijing.
However, Chen expressed confidence in the 76-year-old ties between Taiwan and the Holy See, saying that the agreement related to religious matters only and would not affect the diplomatic ties between Taiwan and the Vatican.
The delegation is scheduled to return home tomorrow.
Romero, who had often denounced repression and poverty in his homilies, was shot dead on March 24, 1980, in a hospital chapel in San Salvador.
His murder was one of the most shocking in the long conflict between a series of US-backed governments and leftist rebels in which thousands were killed by right-wing and military death squads.
Paul VI, a shy man described by biographers as a sometimes indecisive and tormented Hamlet-type figure, guided the church through the conclusion of the Second Vatican Council, which had started under his predecessor, and the implementation of its reforms.
He was elected in 1963 and died in 1978.
Francis often quotes Paul, showing that he is committed to the reforms of the council, which allowed the Mass to be said in local languages instead of Latin, declared respect for other religions and launched a landmark reconciliation with Jews.
Ultra-conservatives in the church still do not recognize the council's teachings and blame Paul for starting what they see as a decline in tradition.
Additional reporting by Reuters
Comments will be moderated. Keep comments relevant to the article. Remarks containing abusive and obscene language, personal attacks of any kind or promotion will be removed and the user banned. Final decision will be at the discretion of the Taipei Times.