China blasts Trump's allegations of election meddling
China yesterday rejected US President Donald Trump's accusations that Beijing is trying to interfere with US congressional elections, a move that further raises tensions as the world's biggest economies fight a trade war.
"We urge the US to stop smearing and accusing China," Chinese Ministry of Foreign Affairs spokesman Geng Shuang (耿爽) said at a regular briefing in Beijing. "China has all along followed the principle of non-interference and refuses to accept any groundless accusations."
Trump on Wednesday said that Beijing was meddling in November's midterms because it opposes his tough trade policies, and said in response to a question that he and Chinese President Xi Jinping (習近平) might not be friends anymore as a result.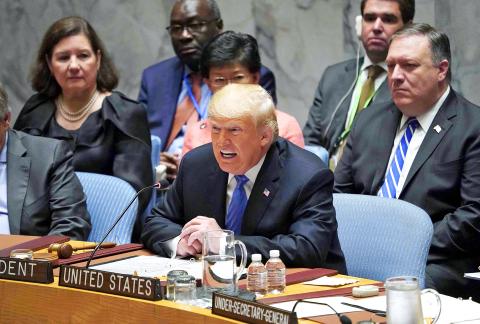 US President Donald Trump speaks during a UN Security Council briefing on counterproliferation on Wednesday in New York City.
Photo: AFP
"They do not want me or us to win because I am the first president ever to challenge China on trade," Trump said as he chaired the UN Security Council for the first time.
Asked later what evidence he had, Trump said there was "plenty," but did not immediately provide details, suggesting that some of the material was classified.
Instead, Trump zeroed in on China's propaganda efforts to flood the heartland with advertisements and statements against his billions of dollars in punishing tariffs.
Trump's comments came three days after China placed an advertising supplement in Iowa's largest newspaper attacking his trade policies.
"I don't like it when they attack our farmers and I don't like it when they put out false messages. But beside that, we learned that they are trying to meddle in our elections and we're not going to let that happen just as we're not going to let that happen with Russia," he said.
A senior Trump administration official who briefed reporters about Trump's comments said that China was stepping up covert and overt activities to punish those who support Trump's tough trade stance and interfere in the political system.
The only specifics given by the official, who spoke on condition of anonymity, were that China is hurting farmers and workers in states and districts that voted for Trump.
China stifles free speech on US campuses and punishes or rewards businesses, think tanks, movie studios and political candidates for criticizing or supporting Chinese politics, the official said.
More information would be declassified in coming days and that US Vice President Mike Pence was expected to speak on the issue next week, he said.
Chinese Minister of Foreign Affairs Wang Yi (王毅) shrugged when he heard Trump's statement via translation at the Security Council.
"We do not and will not interfere in any countries' domestic affairs," he later said. "We refuse to accept any unwarranted accusations against China, and we call on other countries to also observe the purposes of the UN charter and not interfere in other countries' internal affairs."
The ad had been in accordance with US law that allows the cooperation of foreign and US media, Geng told the briefing in Beijing.
He said that categorizing the action as Chinese interference in the US election was "far-fetched and false."
With the elections less than two months away, US intelligence and election-protection officials have not cited any specific, credible Chinese efforts.
Comments will be moderated. Keep comments relevant to the article. Remarks containing abusive and obscene language, personal attacks of any kind or promotion will be removed and the user banned. Final decision will be at the discretion of the Taipei Times.