EU, Iran set financial 'vehicle' to ease trade between them
Five world powers and Iran late on Monday agreed to establish a financial facility in the EU to facilitate payments for Iranian imports and exports, including oil — a key move sought by Tehran following the US pullout from the 2015 nuclear deal and its reimposition of sanctions.
Foreign ministers from Britain, France, Germany, Russia, China and Iran said in a joint statement that the so-called "Special Purpose Vehicle" would "assist and reassure economic operators pursuing legitimate business with Iran."
The nuclear agreement is meant to prevent Tehran from developing nuclear weapons, but US President Donald Trump in May announced that he was unilaterally pulling out because he felt it was not strong enough and did not cover other issues of concern to the US, such as Iran's military influence in the Middle East.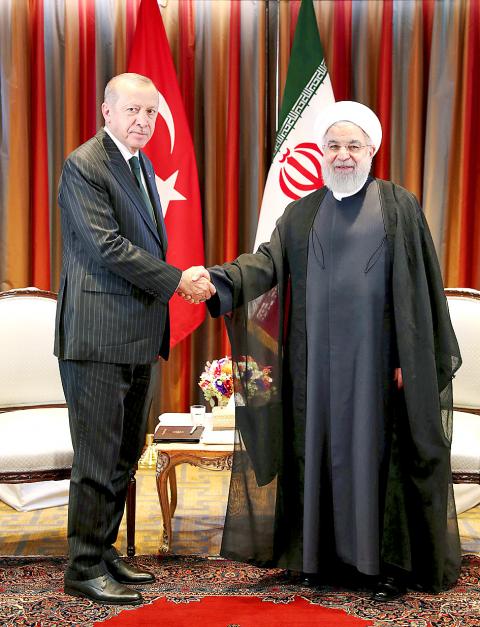 Turkish President Recep Tayyip Erdogan, left, shakes hands with Iranian President Hassan Rouhani prior to a summit meeting at UN headquarters on Monday.
Photo: AP
The US has also accused Iran of promoting international terrorism, which Tehran denies.
Iran's economy is already suffering from the sanctions that Washington reimposed after walking away from the nuclear agreement and the US has threatened to punish companies from other nations that continue doing business with Iran.
The five other world powers who signed the nuclear deal remain strongly committed to it and the new financial facility is almost certain to anger the Trump administration.
EU High Representative for Foreign Affairs and Security Policy Federica Mogherini told reporters after the closed-door ministerial meeting that the financial facility is also aimed at preserving the nuclear agreement.
The EU and Iran say the deal is working and the joint statement says that the International Atomic Energy Agency has certified 12 times that Iran is in compliance with its obligations.
"In practical terms, this will mean that EU member states will set up a legal entity to facilitate legitimate financial transactions with Iran and this will allow European companies to continue to trade with Iran in accordance with European Union law and could be open to other partners in the world," Mogherini said.
The agreement follows extensive exchanges, she said, announcing that a meeting of technical experts would be held to "operationalize" the financial facility.
The statement said the six nations that signed the 2015 nuclear agreement "reconfirmed their commitment to its full and effective implementation in good faith and in a constructive atmosphere."
They called the agreement "a key element of the global non-proliferation architecture and a significant achievement of multilateral diplomacy."
The participants reaffirmed their joint statement on July 6, "in particular to pursue concrete and effective measures to secure payment channels with Iran," it said.
Comments will be moderated. Keep comments relevant to the article. Remarks containing abusive and obscene language, personal attacks of any kind or promotion will be removed and the user banned. Final decision will be at the discretion of the Taipei Times.