Foundation urges Yilan to reinvestigate gym coach
'SERIOUS CRIMES': The foundation on May 12 provided video footage showing Yu poking students' buttocks and slapping a student's head with a slipper
The Humanistic Education Foundation yesterday called on the Yilan County Government to reinvestigate allegations of sexual harassment against a coach who has been allowed to remain on a junior-high school gymnastics team after allegedly touching students' buttocks and taking off their pants.
In July last year, Luodong Junior High School and the county government received reports from the Yilan Gymnastics Association that a coach surnamed Yu (游) had sexually harassed male students by poking their buttocks and taking off their pants.
The school never investigated the case on the grounds that no parents requested a probe and no students expressed discomfort, the foundation said.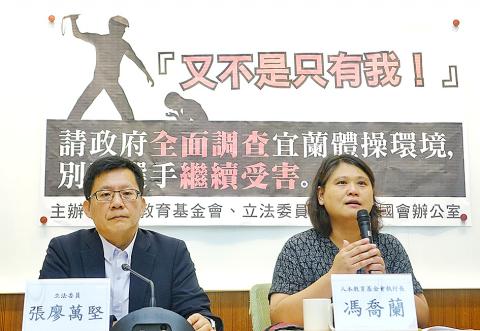 Humanistic Education Foundation executive director Joanna Feng, right, and Democratic Progressive Party legislator Chang Liao Wan-chien attend a news conference in Taipei yesterday.
Photo: Liu Hsin-de, Taipei Times
However, between January and March, the foundation received several reports — some anonymous and some from parents — that Yu had inappropriately touched students, taken off their pants, violently punished them and verbally insulted them, it said.
The foundation on May 12 requested that the Yilan County Department of Education investigate the case and provided video footage showing Yu poking students' buttocks and slapping a student's head with a slipper during training.
The school on Aug. 2 found Yu guilty of sexual harassment after interviewing three parents, concluding that it was caused by a lack of gender equality awareness.
It gave Yu a warning and recommended that he take eight hours of gender equality classes.
According to the school's report, Yu said that taking off people's pants was common in the gym, because "we were in the gym and we were all boys."
"Students do that to each other, too. I did not mean to take off people's pants, more like a light pull, but sometimes the pants come off... If you ask who has never had their pants taken off, there probably are not any," he said in the report.
"Violence against children, poking children's buttocks, touching their genitals and taking off their pants are all serious crimes. Why should they be considered acceptable and reasonable just because they take place in a gym?" the foundation said.
"The Ministry of Education has zero tolerance for sexual assault and corporal punishment, and will handle every case according to the law," Sports Administration deputy section head Tsai Chung-yi (蔡忠益) said.
The county government would be responsible for deciding whether to launch another investigation, but the ministry would communicate with the local government to supervise its work, he said.
Comments will be moderated. Keep comments relevant to the article. Remarks containing abusive and obscene language, personal attacks of any kind or promotion will be removed and the user banned. Final decision will be at the discretion of the Taipei Times.