Cross-Strait Diplomacy: Taiwan not recruiting Chinese: MAC
'DIVERSITY': Chinese students in Taiwan enjoy human rights and freedom, the council said, while the defense ministry pointed at Beijing's own espionage activities
The Mainland Affairs Council (MAC) on Saturday evening denied an accusation from China that Taiwan has been recruiting Chinese students to spy on it, and called on Beijing not to prevent Chinese nationals from studying in Taiwan.
"Taiwan is a free democracy ruled by the law. The government has welcomed Chinese students to study in the nation with the aim of promoting diversity on campus and improving understanding among the younger generations across the [Taiwan] Strait. Chinese students studying in Taiwan enjoy freedom and human rights protected by the government," the council said in a statement.
The council urged Beijing not to undertake "political manipulation targeting Chinese students studying in Taiwan" and not to make untrue claims about Taiwanese engaging in espionage.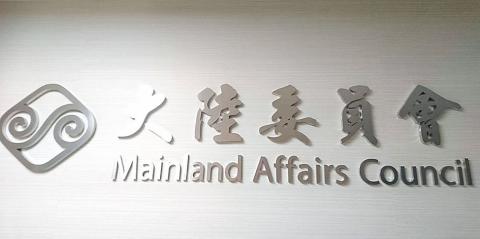 The Mainland Affairs Council's nameplate is pictured at its headquarters in Taipei in an undated photograph.
Photo: Chung Li-hua, Taipei Times
China should not interfere with the nation's freedom, democracy and rule of law, it added.
The Ministry of National Defense yesterday also denied the accusations, adding that "there is no need to be affected by them."
State broadcaster China Central Television on Saturday reported on alleged increased espionage activities by Taiwanese authorities and urged Chinese students studying in Taiwan to take caution.
China's Taiwan Affairs Office also demanded that Taiwanese authorities put an end to its "destructive intelligence activities."
Despite China's protest over the alleged espionage attempts, it has been carrying out acts of espionage targeting Taiwanese military personnel and veterans for many years, the ministry said.
In September last year, Chinese spy Zhou Hongxu (周泓旭) was found guilty of contravening the National Security Act (國家安全法) after he attempted to obtain classified material from government officials.
Retired army major general and former commander of the Air Defense Missile Command Hsieh Chia-kang (謝嘉康) was investigated for allegedly leaking classified information to China, although prosecutors later dropped the charges against him.
To counter Beijing's espionage activities, the military carries out unannounced loyalty tests and has required military personnel to inform supervisors of their contact with any Chinese nationals, a source said, adding that military personnel who help catch a Chinese spy would receive a cash reward.
Additional reporting by CNA
Comments will be moderated. Keep comments relevant to the article. Remarks containing abusive and obscene language, personal attacks of any kind or promotion will be removed and the user banned. Final decision will be at the discretion of the Taipei Times.