No change in security at AIT: US government
Security arrangements at the new American Institute in Taiwan (AIT) compound will be the same as at its current location, a spokesperson for the US Department of State said on Thursday.
Since the de facto US embassy inaugurated its new building complex in Taipei's Neihu District (內湖) on June 12, there have been news reports that US Marines could be deployed at the facility, in accordance with standard US practice at its embassies around the world.
In the wake of reports that the US Department of State asked the Pentagon to deploy a detachment of US Marines to Taiwan to help provide security at the AIT, CNN on Thursday cited US officials as saying that the request had been rejected due to resource constraint issues and not out of fear of irritating Beijing.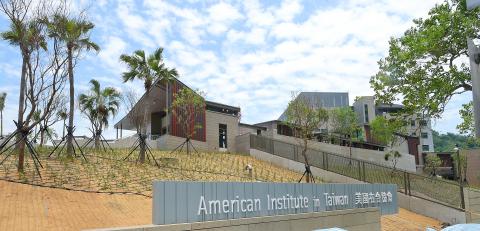 The American Institute in Taiwan's new compound in Taipei's Neihu District is pictured on June 12.
Photo: Chang Chia-ming, Taipei Times
The decision was made by US Secretary of Defense James Mattis last month, CNN reported, citing one defense official, who said that before the request was rejected, military planners had anticipated the US Marines would arrive in Taiwan as early as next month.
Asked about the report, the US Department of State said in a statement e-mailed to the media: "As is the practice at AIT's current location, a small number of American personnel detailed to AIT along with a larger number of locally-hired employees will provide security for the new office building in cooperation with local authorities."
The AIT has yet to move to the compound from its current address in Taipei's Xinyi District (信義).
"We do not discuss specific security matters concerning the protection of our facility or personnel," the statement said, reiterating the US' commitment to its "one China" policy, based on the three US-China joint communiques and the Taiwan Relations Act.
Pentagon spokesman Lieutenant Colonel Christopher Logan declined to comment on the matter, saying: "We do not discuss the operational details or the internal deliberations related to specific security matters concerning the protection of our facilities or personnel."
Comments will be moderated. Keep comments relevant to the article. Remarks containing abusive and obscene language, personal attacks of any kind or promotion will be removed and the user banned. Final decision will be at the discretion of the Taipei Times.