Weather bureau warns of more heavy rainfall
DISASTER PREVENTION: Several Keelung districts saw flooding yesterday, while Taipei's mayor said drainage systems in several areas would be inspected
The government has completed preparations to minimize the possible effects of heavy rain, President Tsai Ing-wen (蔡英文) said yesterday evening after the Central Weather Bureau (CWB) issued a warning of heavy to extremely heavy rain for Keelung, Taipei, New Taipei City, Kaohsiung and Yilan, Hualien, Taitung and Pingtung counties.
In a Facebook post, Tsai said the government has activated disaster prevention and mitigation plans, with rubber dinghies, pumps and other flood-relief equipment ready to be deployed on short notice, and 4,000 soldiers at the ready.
Heavy rain yesterday morning caused flooding in several districts of Keelung, after torrential rain pounded northern Taiwan on Saturday afternoon and early evening, causing flooding in several areas of the city as well as Taipei and New Taipei City.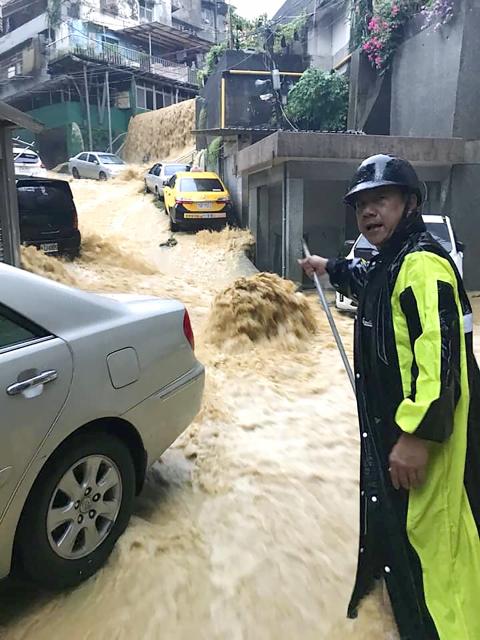 A man stands on a street as water cascades down a hill in Keelung's Anle District yesterday following heavy rain.
Photo: Lu Hsien-hsiu, Taipei Times
A section of Fusing Road in Keelung's Jhongshan District (中山) was flooded with water up to the knee height, leaving many vehicles partially submerged in the water and creating a small waterfall of muddy water in one alley.
Inspecting the flooded areas, Keelung Mayor Lin Yu-chang (林右昌) said the drainpipes along Sinsi Street are not up to standard and culverts in the city might be too old and damaged.
The city would dig up the pipes to investigate, he said.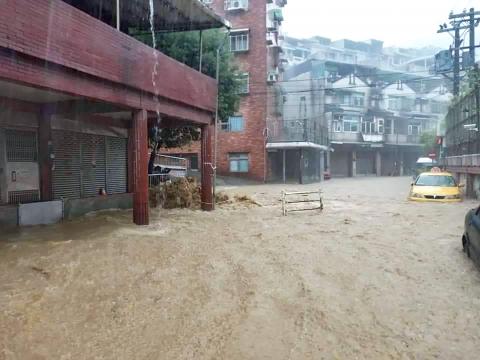 Fusing Road in Keelung's Jhongshan District is flooded after heavy rainfall yesterday morning.
Photo: Yu Chao-fu, Taipei Times
Taipei Mayor Ko Wen-je (柯文哲) yesterday said the city government would inspect the drainage systems and make any needed improvements after the Taipei Fire Department received 161 reports of flooded roads and 20 reports of flooded residences as of 7:30pm on Saturday.
Amid widespread flooding in southern Taiwan last month, Ko had voiced confidence in the city's ability to handle major rainfall.
"As long as the hourly accumulated rainfall is less than 78 millimeters, the majority of areas in Taipei will not flood," he said on Aug. 26.
However, Saturday's rain led to flooding in several areas where the rainfall did not reach 78mm.
Asked about criticism of the city's flood control management, Ko yesterday said "some areas will still flood, but the water recedes very quickly… Taipei will still flood if the hourly accumulated rainfall exceeds 78 millimeters, but even though it exceeded 100 millimeters in some areas last night, the flooding situation was still bearable."
He said he visited the emergency disaster response center on Saturday evening and the Taipei Department of Environmental Protection was scheduled to check the drainage systems at those areas yesterday.
"We always write review reports after every incident, so we can improve bit by bit every time," he said. "We will especially mark out the areas that flooded even though the hourly accumulated rainfall did not reach 78 millimeters."
The Taipei Public Works Department's Hydraulic Engineering Office said the hourly accumulated rainfall on Saturday exceeded 78.8mm at 31 weather stations in more than half the city's administrative districts.
All 70 sewage pumping stations were operating when rain began, while 186 more water pumps were deployed after 6pm, it said.
The hourly accumulated rainfall recorded in the Gongguan area (公館) reached 104mm and 100mm in Daan Forest Park (大安森林公園), with flooding reported on Keelung Road near Gongguan at about 5:50pm, but the water receded by 6:50pm, the department said.
The weather bureau on Saturday afternoon had issued a heavy rain or torrential rain alert for 17 counties and cities nationwide and a thunderstorm alert for Taipei, New Taipei City and Keelung.
The bureau defines extremely heavy rain as accumulated rainfall of 200mm or more within 24 hours; torrential rain refers to accumulated rainfall of 350mm or more; and extremely torrential rain means accumulated rainfall of 500mm or more.
In related news, Tropical Storm Mangkhut was yesterday afternoon upgraded to a typhoon.
As of 2pm yesterday it was about 3,000km from the east coast of Taiwan, moving westward.
It is expected to intensify with the possibility that it could reach Taiwan on Saturday, the bureau forecast.
Additional reporting by Tai Chih-sheng
Comments will be moderated. Keep comments relevant to the article. Remarks containing abusive and obscene language, personal attacks of any kind or promotion will be removed and the user banned. Final decision will be at the discretion of the Taipei Times.