Military plans to invest NT$500bn on ships after '26
The Ministry of National Defense plans to invest an estimated NT$500 billion (US$16.2 billion) after 2026 on next-generation guided missile frigates, submarines and principal warships, a high-ranking official said yesterday.
After that year, the military plans to develop the first and second production blocks of an indigenous submarine and a next-generation guided missile frigate, as well as a next-generation principal warship class' lead vessel and first production block, said the official, who requested anonymity.
While few specifics are known about the military's plan for the next-generation principal warships, they would likely be destroyers equipped with active electronically scanned array radar systems and designed to be capable of operating with the US Navy or other allied fleets.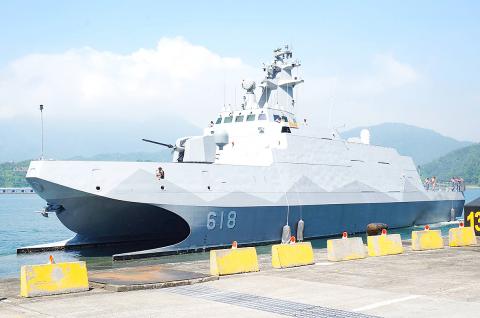 A Tuo Chiang-class stealth missile corvette is pictured on Aug. 31 last year.
Photo: Tu Chu-min, Taipei Times
Additionally, the Taiwan Shipbuilding Industry Association and the ministry are late this month to host the Kaohsiung International Maritime and Defense Expo, which major foreign shipbuilders are expected to attend, the official said.
According to the Executive Yuan's general budget plan for fiscal 2019 — which was last month submitted to the Legislative Yuan for review — the shipbuilding programs of the navy and the Coast Guard Administration are to receive about NT$180 billion in funding.
The navy is to receive NT$49.3 billion for the lead vessel of the indigenous submarine program and NT$31.6 billion for 60 miniaturized missile attack boats.
It would also receive NT$24.5 billion to begin development of the first vessel of the next-generation guided missile frigate program and NT$16.4 billion for three Block II Tu Jiang-class corvettes.
The remainder of the planned budget allocated to the navy includes funding for other programs, ranging from amphibious transport docks, submarines and minelayers to rescue ships and 26 special operations rigid inflatable boats.
The coast guard is to receive NT$42.6 billion to procure 4,000-tonne patrol boats and modified Tuo Chiang-class corvettes.
Comments will be moderated. Keep comments relevant to the article. Remarks containing abusive and obscene language, personal attacks of any kind or promotion will be removed and the user banned. Final decision will be at the discretion of the Taipei Times.