Ministry in contact with US over allies
'CONSULTATIONS': Washington summoned its envoys to the Dominican Republic, El Salvador and Panama, all of which have broken diplomatic relations with Taiwan
The Ministry of Foreign Affairs yesterday said that it has been in close contact with the US government regarding the nation's international space, after Washington summoned its envoys to three of Taiwan's former diplomatic allies in Central America and the Caribbean.
"We have always been in close communications with the US government on issues related to Taiwan's international space," ministry spokesman Andrew Lee (李憲章) said when asked about the US Department of State's latest move in response to China's increasing attempts to poach Taiwan's diplomatic allies.
However, Lee said only that the ministry has noticed the department's announcement, but declined to comment on its individual measures.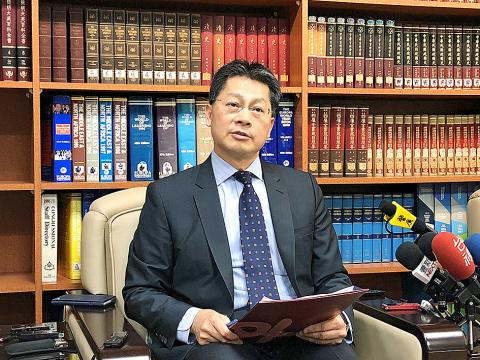 Ministry of Foreign Affairs spokesman Andrew Lee talks to reporters on Aug. 14.
Photo: CNA
Lee's remarks came one day after department spokeswoman Heather Nauert said in a news release that it has summoned US Ambassador to the Dominican Republic Robin Bernstein, US Ambassador to El Salvador Jean Manes and the US Charge d'Affaires in Panama Roxanne Cabral.
The three were summoned for "consultations related to recent decisions to no longer recognize Taiwan," Nauert said.
"The three chiefs of mission will meet with US government leaders to discuss ways in which the US can support strong, independent, democratic institutions and economies throughout Central America and the Caribbean," she said.
Panama, the Dominican Republic and El Salvador are three of the five nations that have severed ties with Taiwan since President Tsai Ing-wen (蔡英文) took office in May 2016, switching allegiance to China in June last year, May this and last month respectively.
The other two nations are Sao Tome and Principe and Burkina Faso, which broke off diplomatic relations with Taiwan in December 2016 and in May respectively.
Taiwan now has 17 diplomatic allies remaining.
The latest loss of a diplomatic ally — El Salvador — has prompted the executive and legislative branches of the US government to raise their voices against China and take a series of approaches to help Taiwan keep its allies.
In the immediate aftermath of the severance of ties between Taiwan and El Salvador, the department expressed its deep disappointment over El Salvador's decision and said it would review its relationships with the Central American country as a result.
The White House also published a rare statement voicing its "grave concerns" over the Salvadoran government's receptiveness to China's apparent interference in the domestic politics of a country in the western hemisphere.
It said the US would continue to oppose China's destabilization of the cross-strait relationship and political interference in the western hemisphere.
Earlier this week, four US senators introduced a bill, the Taiwan Allies International Protection and Enhancement Initiative Act, to support Taiwan's diplomatic recognition.
The bill, if passed, would authorize the state department to downgrade US relations — including suspending or altering foreign assistance, such as military financing — with any government that takes adverse action toward Taiwan.
Comments will be moderated. Keep comments relevant to the article. Remarks containing abusive and obscene language, personal attacks of any kind or promotion will be removed and the user banned. Final decision will be at the discretion of the Taipei Times.