Tsai visits TECO Cultural Center
President Tsai Ing-wen (蔡英文) arrived in Los Angeles shortly after noon on Sunday for a stopover en route to Paraguay, where she was greeted at the airport by American Institute in Taiwan Chairman James Moriarty and a large crowd of Taiwanese expatriates.
Arriving at her hotel, she was greeted by about 1,200 expatriates and she encouraged them to invest in Taiwan, saying the nation's economy is improving.
The period of shrinking foreign investment in Taiwan is over and private-sector investment is expected to top NT$3 trillion (US$97.4 billion) for the first time, she said, adding that major US high-tech companies such as Microsoft Corp, Cisco Systems and Google have decided to expand their presence in artificial intelligence and cloud computing in Taiwan.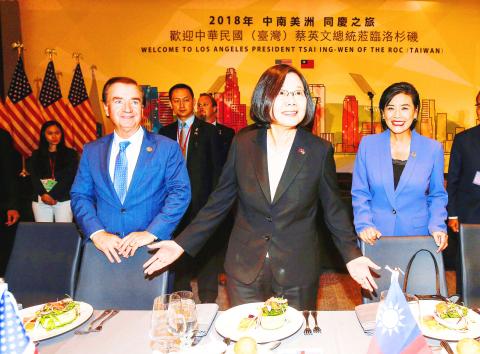 From left, US Representative Ed Royce, President Tsai Ing-wen and US Representative Judy Chu take their seats on Saturday evening at the Los Angeles Overseas Chinese Banquet in Los Angeles, California.
Photo: Reuters
Unlike previous US transit visits by her predecessors that tended to be low-profile affairs, Tsai's itinerary was released ahead of time, and her first official stop was at the Taipei Economic and Cultural Office's (TECO) Culture Center.
Tsai's tour of the center was the first time the nation's president inspected one of the representative offices in the US.
During the tour, she urged young Taiwanese in the US to return to Taiwan to develop their careers.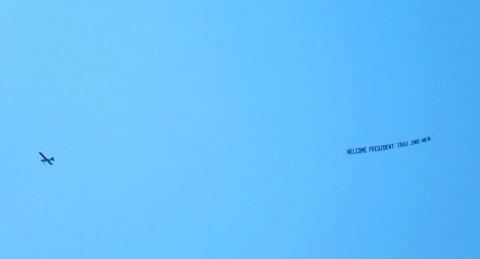 A banner reading "Welcome President Tsai Ing-wen" is pictured on Sunday above the hotel where President Tsai Ing-wen was staying in Los Angeles, California.
Photo: CNA
"Don't miss this once-in-a-blue-moon opportunity," she told the hundreds of expatriates who had gathered at the center to see her.
Tsai urged them not only to explore development opportunities, but to visit rural areas as well.
"If you come back to Taiwan where there is ample capital and the market has been deregulated, we will help connect you to the local society," she said.
As Tsai left the center, scores of Chinese expatriates demonstrated outside, shouting anti-Taiwanese independence slogans, coinciding with the flyover of a plane rented by Taiwanese Americans that towed a banner reading: "Taiwan is not part of China."
Tsai later attended a gathering of about 1,000 expatriates organized by the Taiwan Center Foundation of Greater Los Angeles.
During her stay in Log Angeles, Tsai was expected to meet with some senior US politicians, sources close to the president said.
The US stopover is being closely watched as it is the first since US President Donald Trump signed the Taiwan Travel Act into law in March.
Tsai was scheduled to give a speech yesterday at the Ronald Reagan Presidential Library, her first public address in the US since she took office as president, before departing for Asuncion, where she is to attend tomorrow's inauguration of Paraguayan president-elect Mario Abdo Benitez.
Comments will be moderated. Keep comments relevant to the article. Remarks containing abusive and obscene language, personal attacks of any kind or promotion will be removed and the user banned. Final decision will be at the discretion of the Taipei Times.