Caspian Sea pact signed in Aktau
The leaders of the five states bordering the resource-rich Caspian Sea yesterday signed a landmark deal on the legal status of the inland sea that boasts a wealth of oil and gas reserves and sturgeon.
The leaders of Azerbaijan, Iran, Kazakhstan, Russia and Turkmenistan signed the agreement on the status of the inland sea, which has been disputed since the collapse of the Soviet Union rendered obsolete agreements between Tehran and Moscow.
The host, Kazakh President Nursultan Nazarbayev, said before the signing that the leaders were "participants in a historic event."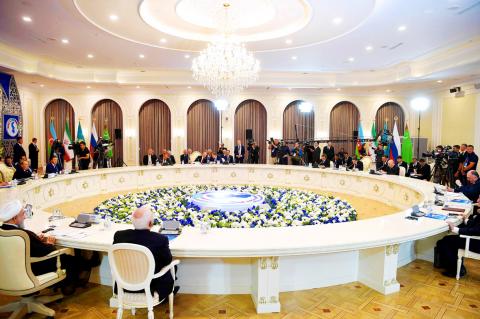 The leaders of the five nations bordering the Caspian Sea and other officials yesterday take part in a plenary session during the Fifth Caspian Summit in Aktau, Kazakhstan.
Photo: AFP
The deal provides a means of delimiting national boundaries in the sea whose underground energy resources are estimated at 50 billion barrels of oil and just under 8.4 trillion cubic metres of natural gas.
However, Iranian President Hassan Rouhani stressed several times during the summit that these boundaries still need to be worked out between the countries.
Iran, which ended up with the smallest share of the sea under the terms of the convention, is viewed as a potential loser in the deal.
Rouhani was also quick to hail a clause that prevents non-Caspian countries from deploying military forces in the sea.
"The Caspian Sea only belongs to the Caspian states," he said.
For almost three decades, the five littoral states have argued over how to divide the world's biggest enclosed body of water.
While some countries have pressed ahead with large offshore projects, such as the Kashagan oil field off Kazakhstan's coast, disagreement over the sea's legal status has prevented other ideas from being implemented.
The agreement also offers hope for the Caspian's ecological diversity and its depleted stocks of beluga sturgeon, whose eggs are prized globally as caviar.
While it remains to be seen how the deal will be implemented, the summit in Aktau was another opportunity for Moscow to present itself as a diplomatic dealmaker.
Comments will be moderated. Keep comments relevant to the article. Remarks containing abusive and obscene language, personal attacks of any kind or promotion will be removed and the user banned. Final decision will be at the discretion of the Taipei Times.