Ma's foundation to 'go beyond' ballots
Former president Ma Ying-jeou (馬英九) yesterday established a foundation named after himself, saying that its purpose is to "go beyond elections."
The foundation aims to develop solutions to the nation's problems that have emerged over the two years since his presidency ended in May 2016, Ma said at its inauguration in Taipei.
The ceremony was attended by many Chinese Nationalist Party (KMT) members, including former premiers Mao Chi-kuo (毛治國) and Simon Chang (張善政), Taipei mayoral candidate Ting Shou-chung (丁守中) and several lawmakers.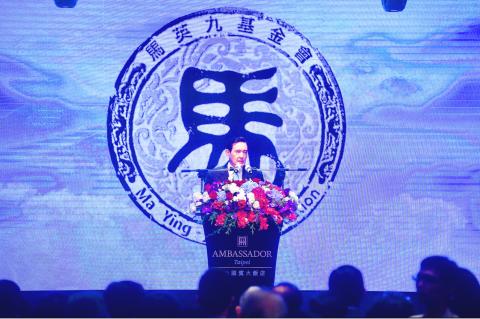 Former president Ma Ying-jeou yesterday speaks at the inauguration ceremony of a foundation named after himself in Taipei.
Photo: Chien Jung-fong, Taipei Times
Ma said he had been reflecting on his mistakes during his presidency from 2008 to 2016, and he would avoid those errors while launching plans to reorient the nation in the right direction.
However, he criticized the cross-strait and energy policies of President Tsai Ing-wen's (蔡英文) administration.
Under the Democratic Progressive Party (DPP) administration, the nation's diplomacy and security, as well as people's livelihoods have been negatively affected, Ma said.
Vendors at Liuhe Night Market (六合夜市) in Kaohsiung and Dongdamen Night Market (東大門夜市) in Hualien told him that their businesses are struggling due to a drop in the number of Chinese tourists, Ma said.
His "pragmatic and visionary" policies have been changed by Tsai, while increasing numbers of young people — including those who support Taiwanese independence — have left for China to study and work, he said.
The DPP administration's policy to phase out nuclear energy by 2025 is a hurried decision that would lead to increasing consumption of coal and gas-fired power and more carbon emissions, he said.
The American Chamber of Commerce in Taipei has advised the government to maintain at least one nuclear power plant in case of an emergency, but Tsai's administration turned a deaf ear, he said.
The elimination of nuclear power should only be promoted when the nation does not run the risk of power rationing, when its electricity prices are reasonable and when it has achieved its promises to cut carbon emissions, he said.
Tsai's promotion of the Act Governing the Settlement of Ill-gotten Properties by Political Parties and Their Affiliate Organizations (政黨及其附隨組織不當取得財產處理條例) has sparked serious constitutional controversy, Ma said, adding that he is unwilling to see the judiciary in disorder.
Overall, the pragmatic and negotiable relations across the Taiwan Strait that he established have run into a stalemate, with Taiwan losing four diplomatic allies in two years and its right to host the East Asian Youth Games in Taichung, Ma said, adding that the nation should seek solutions to these problems.
Comments will be moderated. Keep comments relevant to the article. Remarks containing abusive and obscene language, personal attacks of any kind or promotion will be removed and the user banned. Final decision will be at the discretion of the Taipei Times.