Parents of preschoolers to benefit from government subsidy from next month
TARGETING THE BIRTHRATE: The premier said that the majority of parents consider it ideal if rearing their preschoolers cost 10% to 15% of their disposable income
Starting next month, parents are to receive a monthly subsidy of NT$6,000 (US$196.25) for each of their children up to the age of two who use semi-public kindergartens or babysitters, the Executive Yuan said yesterday.
The announcement came after the Cabinet in May proposed a subsidy program aimed at lessening the burden of child-rearing and boosting the nation's low birthrate.
The subsidy program targets preschoolers aged up to two and those aged three to five, Premier William Lai (賴清德) told a news conference at the Executive Yuan in Taipei.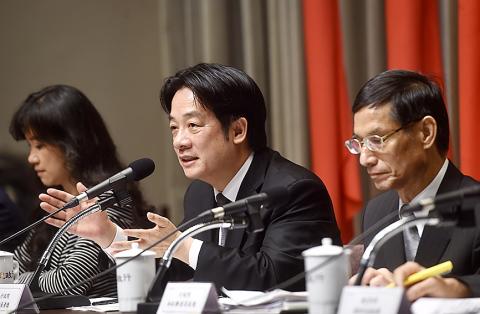 Premier William Lai, center, is accompanied by Executive Yuan spokesperson Kolas Yotaka, left, and Minister Without Portfolio Lin Wan-i yesterday as he speaks about childcare subsidies at the Executive Yuan in Taipei.
Photo: Chien Jung-fong, Taipei Times
Parents of children aged up to two who stay at home or attend private daycare centers would each qualify for a subsidy of NT$2,500 per month, while those whose children attend public daycare centers would receive NT$3,000 per month, Lai said.
Those whose children are enrolled at a private daycare center or kindergarten that has joined the Cabinet's initiative to transition to a government-subsidized, semi-public institution, or parents who have a contract with a so-called "semi-public babysitter" would receive a monthly subsidy of NT$6,000, he said.
Parents of preschoolers belonging to a medium-low income family using a semi-public institution or babysitter would each receive a monthly subsidy of NT$8,000, while those from low-income families would receive NT$10,000 per month.
Under the subsidy program, the cost of caring for a preschooler aged between three and five would be capped at no more than NT$4,500 per month, with the cost further reduced to NT$3,500 per month for parents with three or more children, the premier said.
Citing the results of a survey conducted by the Cabinet, Lai said that the majority of parents considered it ideal if rearing their preschoolers cost 10 to 15 percent of their disposable income.
The Cabinet's goal is to cap the amount at 12.5 percent, but since the prices charged by kindergartens and daycare centers vary from one administrative area to another, the amount given to parents with children aged three to five would not be fixed, he said.
Asked how the Cabinet would coordinate with local governments that have already initiated similar subsidy programs, the premier said that it would use 12.5 percent of a couple's disposable income as the standard if the subsidies they are already receiving fall short of that goal.
The subsidy plan for children aged up to two would be implemented nationwide next month, while the plan for children aged three to five would be launched in all administrative areas except the six special municipalities, which would join the program in August next year, Minister Without Portfolio Lin Wan-i (林萬億) said.
Using a budget allocated under the Forward-looking Infrastructure Development Program, the government plans to use NT$35.8 billion to address the birthrate problem, which is expected to benefit 860,000 preschoolers by August next year, Lin added.
Comments will be moderated. Keep comments relevant to the article. Remarks containing abusive and obscene language, personal attacks of any kind or promotion will be removed and the user banned. Final decision will be at the discretion of the Taipei Times.