Nation's OhBear debuts as hot air balloon at festival
Taiwan yesterday debuted a hot air balloon in the shape of a Formosan black bear at the International Balloon Festival in Taitung County.
The "OhBear" balloon, which is 30.6m high and weighs 250kg, was produced through a joint effort of the Ministry of Transportation and Communications' Tourism Bureau and the Taitung County Government.
The balloon is decorated with images that depict Taiwan's indigenous culture, including an illustration of a bag that is traditionally used by Amis women to carry betel nuts and personal belongings.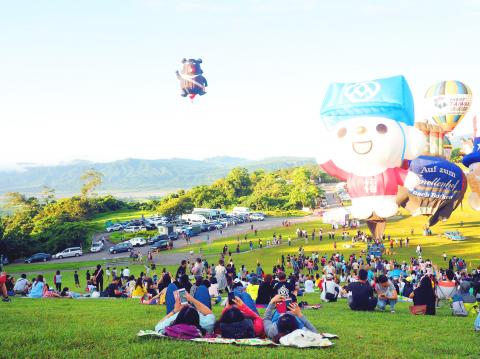 An OhBear hot air balloon, in the shape of a Formosan black bear, left, flies over Taitung County's Luye Highland yesterday during the International Hot Air Balloon Festival, which ends on Aug. 13.
Photo: Wang Hsiu-ting, Taipei Times
Since 2014, Taiwan has been using the OhBear motif in its tourism promotion efforts, as it seeks to enhance its international visibility, Tourism Bureau Director-General Chou Yung-hui (周永暉) said.
The hot air balloon's design was part of that effort, he added.
The motif features the Formosan black bear, which is native to Taiwan and mainly inhabits the nation's Central Mountain Range. The bear is black, except for a distinctive white V-shaped area on its chest.
As a hot air balloon, the black bear motif is to float among balloons from across the globe at the festival, which is being held in Taitung County's Luye Highland until Aug. 13.
At various venues throughout Taitung, visitors can take tethered balloon rides during the day and attend the Night Glow Concert in the evening.
The concert is to be held at National Taitung University today, Aurora Garden (曙光園區) on Aug. 4, Jhihben's (知本) hot springs on Aug. 11 and Luye Highland on Aug. 13, the festival Web site says.
Comments will be moderated. Keep comments relevant to the article. Remarks containing abusive and obscene language, personal attacks of any kind or promotion will be removed and the user banned. Final decision will be at the discretion of the Taipei Times.