US envoy to brief allies on summit
MEDIA FRENZY: North Korean state media said that Trump had backed down on total denuclearization, promised to ease sanctions and accepted Kim's invitation to visit
A day after their historic summit, US President Donald Trump and North Korean leader Kim Jong-un returned to their respective strongholds, but to far different receptions.
In Pyongyang, Kim woke up yesterday morning to state media's enthusiastic claims of a victorious meeting with the US president; photographs of him standing side-by-side with Trump on the world stage were splashed across newspapers.
Meanwhile, Trump faced questions about whether he gave away too much in return for far too little when he bestowed a new legitimacy on Kim's rule and agreed, at Pyongyang's request, to end war games with Seoul.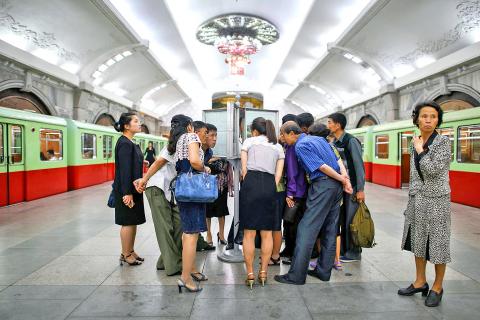 Commuters read the Rodong Sinmun edition on North Korean leader Kim Jong-un's meeting with US President Donald Trump on a subway platform in Pyongyang yesterday.
Photo: AFP
As US Secretary of State Mike Pompeo jetted to South Korea for follow-up talks, much of Asia was still trying to process the whirlwind events of the day before.
There were worries, especially in Tokyo and Seoul, about Trump agreeing to halt US military exercises with South Korea.
That concession appeared to catch the Pentagon and officials in Seoul off guard, and some South Koreans were alarmed.
Pompeo yesterday left Singapore on his way to Seoul, where he planned to meet privately in the evening with General Vincent Brooks, commander of US Forces Korea, and is to meet South Korean President Moon Jae-in this morning to discuss the summit.
Japanese Minister of Foreign Affairs Taro Kono is also heading to Seoul and is due to meet with Pompeo and his South Korean counterpart.
Pompeo then plans to fly to Beijing to update the Chinese government on the talks.
Trump on Twitter said that meeting meant "the World has taken a big step back from potential Nuclear catastrophe!"
"No more rocket launches, nuclear testing or research! The hostages are back home with their families. Thank you to Chairman Kim, our day together was historic!" he added.
Trump insisted that strong verification of denuclearization would be included in a final agreement, saying it was a detail his team would begin sorting out with the North Koreans next week.
The North yesterday suggested that Trump had moved away from his demand for complete denuclearization before US sanctions are removed.
The Korean Central News Agency said the leaders "shared recognition to the effect that it is important to abide by the principle of step-by-step and simultaneous action in achieving peace, stability and denuclearization of the Korean Peninsula."
It also said that Trump had expressed his intention to lift sanctions "over a period of goodwill dialogue" and accepted an invitation from Kim to visit North Korea.
The White House declined to comment on the North Korean characterization of the deal.
In Japan, the prospect of canceled US-South Korean drills was met with concern.
"The US-South Korea joint exercises and US forces in South Korea play significant roles for the security in East Asia," Japanese Minister of Defense Itsunori Onodera told reporters.
Japan wants to get further explanations from the US and South Korea on the issue, Japanese Chief Cabinet Secretary Yoshihide Suga said, declining to comment further.
Additional reporting by AFP
Comments will be moderated. Keep comments relevant to the article. Remarks containing abusive and obscene language, personal attacks of any kind or promotion will be removed and the user banned. Final decision will be at the discretion of the Taipei Times.