US officials arrive for AIT dedication
PACKED SCHEDULES: US Department of State official Marie Royce and Representative Gregg Harper are to meet with government officials and private-sector representatives
US Assistant Secretary of State for Educational and Cultural Affairs Marie Royce yesterday arrived in Taiwan for a four-day visit that includes tomorrow's dedication ceremony for the American Institute in Taiwan's (AIT) new complex in Taipei's Neihu District (內湖), the Ministry of Foreign Affairs said.
It is Royce's first visit to Taiwan since she took up her post in March, although she has accompanied her husband, US House of Representatives Foreign Affairs Committee Chairman Ed Royce, on several trips, the ministry said.
She is quite familiar with Taiwan and she and her husband have been long-standing, important friends of Taiwan, the ministry added.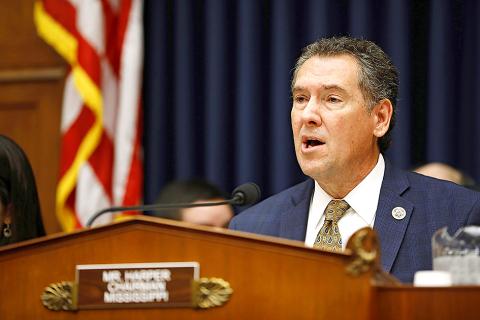 US Representative Gregg Harper speaks during a US House Energy and Commerce Subcommittee hearing in Washington on May 8.
Photo: Bloomberg
Marie Royce is to visit government agencies during her visit to share views on issues including Taiwan-US relations, educational and cultural exchanges and building a good environment for start-ups, it said.
She is also scheduled to meet with alumni of US exchange programs, and engage with the local and foreign businesses community on entrepreneurship and the business climate, the AIT said in a statement yesterday.
In her job, she oversees a wide range of programs that advance US foreign policy objectives through educational, professional, cultural and sports exchanges, and that create networks and partnerships to advance US foreign policy goals and address global challenges and opportunities, the statement said.
Marie Royce has more than 30 years of experience in the private sector, it said.
She served as a vice president of Alcatel-Lucent; held management positions with Marriott International, Avendra, Choice Hotels International and Procter & Gamble Co; and taught at California State Polytechnic University, Pomona.
US Representative Gregg Harper, a co-chair of the Congressional Taiwan Caucus, also arrived yesterday to attend tomorrow's dedication ceremony, at the head of a three-person delegation, the ministry said.
This is Harper's first visit to Taipei since he took over the co-chairmanship in 2015, it said.
He is also scheduled to meet with high-ranking economic and political officials and attend a banquet hosted by Minister of Foreign Affairs Joseph Wu (吳釗燮), the ministry said.
Describing Harper as an important friend of Taiwan in the US Congress, the ministry said he has helped push pro-Taiwan proposals through the US Congress, including signing a petition to WHO Director-General Tedros Adhanom Ghebreyesus to ask that Taiwan be allowed to participate as an observer in this year's World Health Assembly in Geneva, Switzerland.
He voted for the US' Taiwan Travel Act, which encourages visits between government officials of the US and Taiwan, and met with President Tsai Ing-wen (蔡英文) when she transited through Miami en route to Panama on her first overseas trip as president in June 2016.
Comments will be moderated. Keep comments relevant to the article. Remarks containing abusive and obscene language, personal attacks of any kind or promotion will be removed and the user banned. Final decision will be at the discretion of the Taipei Times.