Trade deals off if US moves ahead with tariffs: China
China yesterday warned after another round of talks on a sprawling trade dispute with Washington that any deals they produce "will not take effect" if US President Donald Trump's threatened tariff hike on Chinese goods goes ahead.
The warning came after delegations led by US Secretary of Commerce Wilbur Ross and China's top economic official, Vice Premier Liu He (劉鶴), wrapped up a meeting on Beijing's pledge to narrow its trade surplus.
Ross said at the start of the event that they had discussed specific US exports China might purchase, but the talks ended with no joint statement and neither side released details.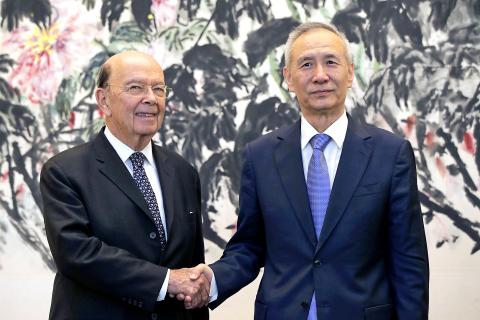 US Secretary of Commerce Wilbur Ross, left, shakes hands with Chinese Vice Premier Liu He at the Diaoyutai State Guesthouse in Beijing yesterday.
Photo: AP
The White House threw the meeting's status into doubt on Tuesday by renewing a threat to impose 25 percent tariffs on US$50 billion of Chinese high-tech goods in response to complaints Beijing steals or pressures foreign companies to hand over technology.
The event went ahead despite that, but Beijing said it reserved the right to retaliate.
"If the United States introduces trade sanctions, including a tariff increase, all the economic and trade achievements negotiated by the two parties will not take effect," said the Chinese statement, carried by Xinhua news agency.
The negotiating process should be "based on the premise" of not fighting a "trade war," the statement said.
The US embassy in Beijing did not immediately respond to a request for comment.
Trump is pressing Beijing to narrow its politically volatile trade surplus with the US, which reached a record US$375.2 billion last year.
Tensions eased after China promised on May 19 to "significantly increase" purchases of farm goods, energy and other products and services following the last round of talks in Washington.
US Secretary of the Treasury Steven Mnuchin said the dispute was "on hold" and the tariff hike would be postponed.
That truce appeared to end with Tuesday's surprise announcement.
Private sector analysts say that while Beijing is willing to compromise on its trade surplus, it will resist changes that might threaten plans to transform China into a global technology competitor.
Ross was accompanied by agriculture, Treasury and trade officials for the meeting at the Diaoyutai State Guesthouse. Liu's delegation included People's Bank of China Governor Yi Gang (易綱) and the minister of commerce.
Ross and Liu held a working dinner on Saturday.
"Our meetings so far have been friendly and frank, and covered some useful topics about specific export items," said Ross at the opening of yesterday's meeting.
Comments will be moderated. Keep comments relevant to the article. Remarks containing abusive and obscene language, personal attacks of any kind or promotion will be removed and the user banned. Final decision will be at the discretion of the Taipei Times.