Foreign ministry thanks Mattis for Taiwan comments
The Ministry of Foreign Affairs yesterday welcomed US Secretary of Defense James Mattis' reiteration of Washington's commitment to sell necessary defensive weapons to Taipei, saying it demonstrated the US' emphasis on Taiwan's security.
In a speech delivered yesterday at the three-day Shangri-La Dialogue held by the International Institute for Strategic Studies in Singapore, Mattis said that the US Department of Defense remained committed to working with Taiwan to provide the defensive articles and services it needs to maintain sufficient self-defense capabilities.
"[It is] consistent with our obligation set out in our Taiwan Relations Act," Mattis said.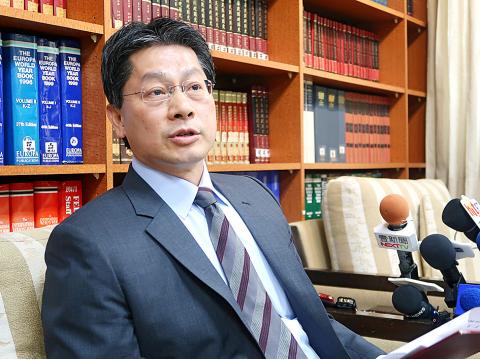 Ministry of Foreign Affairs spokesman Andrew Lee speaks to reporters on March 29.
Photo: Lu Yi-suan, Taipei Times
He also remarked on cross-strait relations, saying that the US opposes all unilateral efforts to alter the "status quo," and would continue to insist that any resolution of differences be made in accordance with the will of the people on both sides of the Taiwan Strait.
It was the second time Mattis has reaffirmed the US' commitment to Taiwan at the annual security forum.
Taiwan's "democratic government" and "peaceful resolution" were mentioned in Mattis' speech last year. This year, he did not mention Taiwan's "democratic government" and only used "resolution."
In the speeches given by Mattis' predecessors, Taiwan was mentioned mostly for its "economic miracles" in the Asia-Pacific region. Mentions of the Taiwan Relations Act were usually used in relation to the US' "one China" policy and the Three Joint Communiques.
In a news release, ministry spokesman Andrew Lee (李憲章) said that Mattis' reiteration of the US' security commitment to Taiwan in accordance with the act for two consecutive years demonstrates the level of importance Washington has attached to situational changes in the region and Taiwan's security.
"Tension in the region has risen greatly due to China's repeated provocative moves to send aircraft and vessels to encircle Taiwan, as well as its show of force in the East and South China seas," Lee said.
While expressing gratitude to Mattis, Lee said that the government would act responsibly in the face of such threats, and plans to increase its military investment and prop up the domestic defense industry.
Taiwan would also broaden security cooperation with its allies to jointly face regional issues, he added.
The US Congress in 1979 passed the Taiwan Relations Act to maintain commercial, cultural and other unofficial relations with Taiwan after Washington switched diplomatic recognition from Taipei to Beijing.
The act requires the US "to provide Taiwan with arms of a defensive character."
Comments will be moderated. Keep comments relevant to the article. Remarks containing abusive and obscene language, personal attacks of any kind or promotion will be removed and the user banned. Final decision will be at the discretion of the Taipei Times.