PRC activist handed three-month stay
LIMITED OPTIONS: Huang Yan, who has been granted refugee status by the UN, would have to relocate to another nation after the period expires, the council said
The Ministry of Foreign Affairs yesterday said it would offer assistance to a Chinese human rights activist seeking political asylum who has been allowed into Taiwan for a three-month stay.
The Mainland Affairs Council late on Wednesday confirmed a report by online newspaper Hong Kong Free Press, which said that Huang Yan (黃燕), who has been granted refugee status by the UN, arrived at Taiwan Taoyuan International Airport at 8:40pm on Tuesday from Jakarta.
Huang has been subject to detentions, house arrest and brutality at the hands of state agents due to her involvement in campaigns demanding freedom for activists and lawyers detained in China, the newspaper said.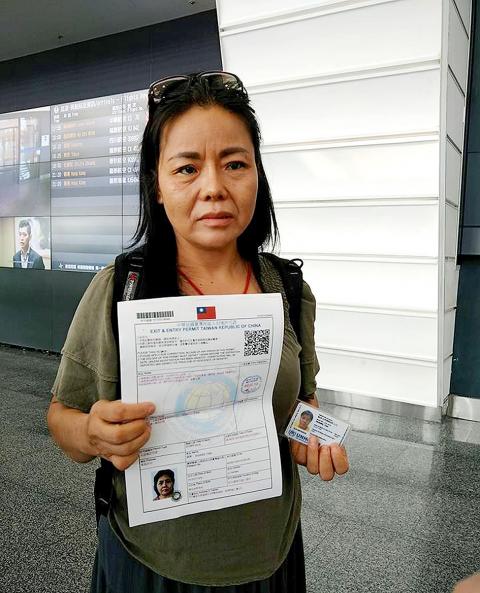 Chinese human rights activist Huang Yan holds up documents at Taiwan Taoyuan International Airport on Wednesday.
Photo courtesy of Taiwan Association for China Human Rights
Due to Taiwan's lack of a refugee law, Huang had to remain at the airport and was facing deportation to China, where she faces persecution, until authorities decided to grant her temporary protection, the newspaper said.
Council spokesman Chiu Chui-cheng (邱垂正) confirmed the report, saying that the government approved Huang's stay due to considerations that she could face persecution if returned to China.
The National Immigration Agency's joint review committee examined her case and, taking into account her UN status as a refugee and the danger she could face in China, granted her a three-month stay, Chiu said.
Once the temporary stay period concludes, Huang would have to resettle in another nation, he added.
Asked to comment on Taiwan Association for China Human Rights chairman Yang Hsien-hung's (楊憲宏) suggestion that the government report Huang's location to the UN, ministry spokesman Andrew Lee (李憲章) told a morning news conference that Huang's entry into Taiwan is a matter overseen by the agency, while the council is responsible for affairs related to Chinese citizens.
"That said, should [Huang] require the assistance of the ministry or our overseas representative offices in the future, we will provide it accordingly," Lee said, adding that the ministry has yet to receive such a request.
The case came amid tension across the Taiwan Strait that has continued to rise following Beijing's continued efforts to poach Taiwan's diplomatic allies and limit the nation's international presence.
Burkina Faso on Thursday last week became the fourth nation since President Tsai Ing-wen (蔡英文) took office in May 2016 to sever ties with Taiwan — likely due to financial incentives from China — after Sao Tome and Principe in December 2016, Panama in June last year and the Dominican Republic last month.
China has also blocked Taiwan from receiving an invitation to the World Health Assembly for two consecutive years.
As a countermeasure, the council announced that it would tighten its screening of applications by Chinese officials to visit Taiwan.
Additional reporting by staff writer
Comments will be moderated. Keep comments relevant to the article. Remarks containing abusive and obscene language, personal attacks of any kind or promotion will be removed and the user banned. Final decision will be at the discretion of the Taipei Times.