Cabinet bill aims to attract foreign professionals
The Cabinet yesterday proposed a draft act aimed at attracting foreign professionals, technicians, business immigrants and Taiwanese expatriates to supplement the nation's labor pool.
With its declining birthrate and aging population, Taiwan would start to have negative population growth by 2025, Premier William Lai (賴清德) told a news conference at the Executive Yuan in Taipei, adding that the population is expected to decline from more than 23 million to fewer than 20 million by 2035.
As of August last year, the nation had a labor shortage of 218,000 people, excluding the agricultural sector, National Development Council Minister Chen Mei-ling (陳美伶) said, adding that it needed 120,000 more middle-level technicians.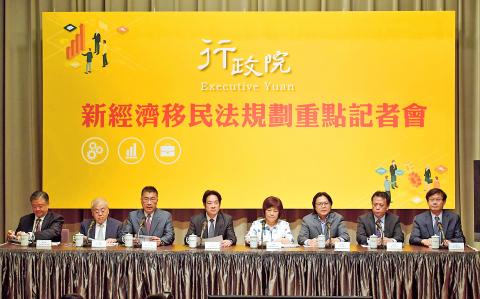 Cabinet officials including Premier William Lai and National Development Council Minister Chen Mei-ling, fourth and fifth from left, announce a draft act on economic immigration at a news conference at the Executive Yuan in Taipei yesterday.
Photo: CNA
The council proposed a draft act for new economic immigration to encourage more foreigners and Taiwanese expatriates to join the nation's workforce, be they technicians, professionals or businesspeople, Chen said.
Foreign professionals who want to apply for permanent residency are required to stay in the nation for five consecutive years, but the bill proposes shortening the period to three years for special professionals, she said.
Special professionals are defined as those younger than 40 whose skills fit the nation's key development industries, with an average monthly salary of NT$160,000, according to the draft act.
As for foreign technicians, the council would encourage overseas students and migrant workers to stay in Taiwan, but would only introduce them when the council considers it necessary, Chen said.
Migrant workers who have technical certificates would be allowed to stay in Taiwan after six years of work, but their monthly salary should meet certain standards — NT$41,393 for industrial workers and NT$32,000 for those in the social welfare and healthcare sectors, she said.
The council would have total control over the number of foreign technicians and impose personnel ratios on industries to ensure that foreign technicians supplement, rather than replace, the local workforce, she said.
The draft act would also loosen regulations for business immigrants as well as Taiwanese expatriates and their children returning to the nation.
The Executive Yuan expects to send the bill to the Legislative Yuan for review in the next legislative session, Lai said.
The council would continue to evaluate the bill's potential risks and effects, Lai said, adding that the Cabinet would ensure new regulations do not affect the salaries of Taiwanese.
As for the labor shortage in the agricultural sector, the Council of Agriculture is promoting a working holiday program for young people from Southeast Asian nations, Deputy Minister of Labor Shih Keh-her (施克和) said.
Comments will be moderated. Keep comments relevant to the article. Remarks containing abusive and obscene language, personal attacks of any kind or promotion will be removed and the user banned. Final decision will be at the discretion of the Taipei Times.