Canada, Germany back WHA bid
With only four days left before the registration deadline for this year's World Health Assembly (WHA), the government and some members of the international community have endeavored to give the nation's bid a final boost.
In a letter written on Tuesday, Independent Canadian Senator Stephen Greene called on Canadian Minister of Foreign Affairs Chrystia Freeland to support Taiwan's inclusion in the WHA to be held from May 21 to May 26 in Geneva, Switzerland, on behalf of the Canadian government.
"Canada and Taiwan share strong economic and cultural links, and more importantly to the issue at hand, our two countries worked very closely together in managing the SARS outbreak of 2003," Greene wrote.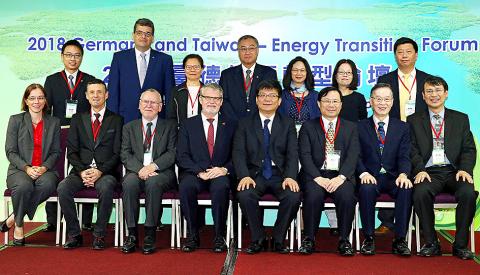 Deputy Minister of Economic Affairs Tseng Wen-sheng, front row fourth right, and German Institute Taipei Director-General Martin Eberts, front row fourth left, are pictured at the Germany and Taiwan Energy Transition Forum in Taipei yesterday.
Photo: CNA
Given the devastating effect SARS had on Canada, particularly Toronto, which Freeland represents in the Canadian House of Commons, it is "unimaginable to exclude any willing partner from participating in the WHA," Greene said.
The letter was also sent to Canadian Minister of Health Ginette Petitpas Taylor, WHO director-general Tedros Adhanom Ghebreyesus, WHO executive board chair Assad Hafeez and WHO executive board vice chair Sarah Lawley.
Meanwhile, German Institute Taipei Director-General Martin Eberts yesterday also threw his support behind Taiwan's bid to participate in international events.
Speaking on behalf of the institute and the German government while attending an energy transition forum in Taipei, Eberts said he hoped that Taiwan would not suffer international isolation due to bullying, saying that Berlin supported Taiwan and its people being part of international affairs.
Taiwan first participated in the WHA as an observer in 2009, one year after then-president Ma Ying-jeou (馬英九) took office and his administration pursued a more conciliatory policy toward China.
The nation was invited to the annual meeting as an observer until last year, when it failed to receive an invitation due to Chinese pressure.
The last invitation was received only days before President Tsai Ing-wen (蔡英文) took office on May 20, 2016, and came with an unprecedented mention of Beijing's "one China" principle.
Despite having admitted that the chances of Taiwan receiving a WHA invitation this year are slim, the government has explored all possible ways to increase international support for its bid, including resorting to international media and launching online propaganda campaigns to underline Taiwan's dedication to public health.
The latest effort was by Minister of Health and Welfare Chen Shih-chung (陳時中), who wrote an opinion piece calling for international support for the nation's WHA bid that was published on Wednesday in online international magazine The Diplomat.
Chen urged the WHO and related parties to acknowledge Taiwan's long-standing contributions to promoting health worldwide, and recognize the significance and legitimacy of Taiwan's involvement as an observer in this year's WHA.
"Because we believe that to achieve health for all, Taiwan can help," Chen wrote.
Comments will be moderated. Keep comments relevant to the article. Remarks containing abusive and obscene language, personal attacks of any kind or promotion will be removed and the user banned. Final decision will be at the discretion of the Taipei Times.