Deportees' behavior sparks outrage
Perceived negligence and lax handling of scores of Taiwanese telecom scam suspects extradited from Poland to Taiwan on a China Airlines (中華航空) flight yesterday caused a furor, with passengers on the flight saying that the suspects were smug and taunted flight attendants.
The 34 suspects were arrested by Polish authorities in January after they allegedly swindled 1.8 million euros (US$2.2 million) from people in China via telephone calls, Miaoli District Prosecutors' Office head prosecutor Chen Hung-chao (陳宏兆) said.
"Arrangements for the extradition of the suspects to Taiwan were made after their three-month detention in Poland came to an end," Chen said.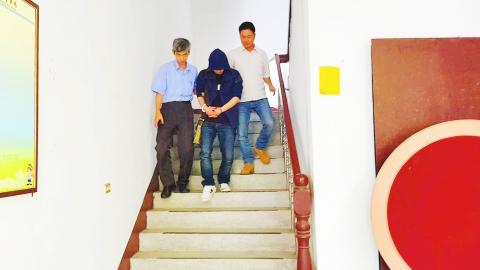 A telecom fraud suspect is escorted down a staircase at the Miaoli County Police Station yesterday.
Photo: Peng Chian-lee, Taipei Times
Some passengers on the flight said they were surprised that the suspects were not handcuffed or supervised by authorities.
During the flight, the suspects demanded alcoholic drinks and made inappropriate comments bordering on sexual harassment toward female flight attendants, the passengers said.
Local media reported that the airline upgraded three suspects to business class due to a lack of seats in economy class, sparking furious reactions online.
However, Chen said that the three suspects likely paid for the business-class tickets themselves, as the suspects' families were asked to purchase their tickets.
"As their detention was ending, the Polish judiciary contacted us to extradite the 34 suspects from Poland to Taiwan," Chen said.
"However, we received the notification late and the suspects were already on the flight," he said.
"That is why we did not have law enforcement officers on the flight, why there were no proper security arrangements and why the suspects were not handcuffed," Chen said.
"However, Polish authorities had several government officials monitor the suspects for the entire flight," Chen added.
Some passengers reported hearing the suspects say that they were unrepentant and that they had made easy money.
After receiving notification of the extradition, Chen said his office dispatched police and judicial officials to Taiwan Taoyuan International Airport, where all 34 suspects were placed in police custody and escorted for follow-up legal proceedings.
A second group of suspects is to return to Taiwan next week.
A total of 48 Taiwanese suspects were arrested in January in the Polish cities of Warsaw, Krakow and Lublin.
A Ministry of Foreign Affairs mission office in the capital, Warsaw, provided them assistance.
Comments will be moderated. Keep comments relevant to the article. Remarks containing abusive and obscene language, personal attacks of any kind or promotion will be removed and the user banned. Final decision will be at the discretion of the Taipei Times.