Ministry protests Manila deportations
The government yesterday issued a stern protest to the Philippines after Manila joined other nations in succumbing to Chinese pressure and deporting Taiwanese fraud suspects to China.
Early yesterday, the Philippine government forcibly deported to China 78 Taiwanese who allegedly engaged in telecom fraud, despite Taipei's repeated calls for Manila to handle the case discreetly and based on the principle of nationality, the Ministry of Foreign Affairs said in a statement.
"We also urged Manila to take into account the suspects' personal will and send them back to Taiwan to stand trial here," the ministry said. "However, the Southeast Asian nation still deported our people to China on the grounds that Beijing had repeatedly put pressure on it."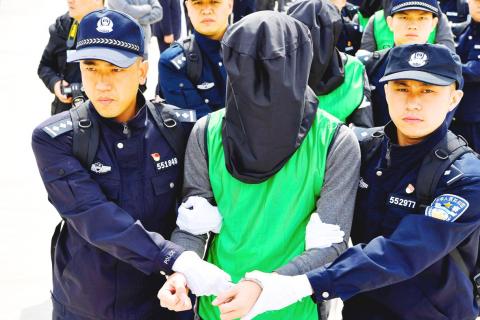 Chinese police officers escort Taiwanese who were arrested in the Philippines on suspicion of telecom fraud at an airport in Tianjin yesterday.
Photo: Reuters
A ministry official, who requested anonymity, said the ministry would summon Manila's representative after the long Tomb Sweeping Day holiday.
The 78 Taiwanese were among 158 people arrested by Philippine police on Jan. 13 for their alleged involvement in telecom fraud.
The extradition came only days before Philippine President Rodrigo Duterte is scheduled to travel to China to attend the Boao Forum for Asia in Hainan, which is to take place from Sunday to Wednesday next week.
Since the first such incident occurred in April 2016, several nations have chosen to abide by Beijing's "one China" principle and deport Taiwanese fraud suspects to China, including Kenya, Armenia, Malaysia, Indonesia, Cambodia and Vietnam.
The latest deportation by the Philippines raises the number of Taiwanese telecom fraud suspects who have been deported to China to more than 360.
The Mainland Affairs Council said in a statement that Beijing's actions were counterproductive to both the crackdown on cross-border telecom fraud and the development of cross-strait relations.
"The repeated emergence of new cross-border telecom fraud cases goes to show that Beijing's single-handed efforts to curb such crime so far is ineffective and that both sides of the Taiwan Strait should work together to seek solutions … and completely crack down [on] fraud rings," the council said.
Comments will be moderated. Keep comments relevant to the article. Remarks containing abusive and obscene language, personal attacks of any kind or promotion will be removed and the user banned. Final decision will be at the discretion of the Taipei Times.