China promotes foreign minister, picks defense chief
China yesterday elevated the status of its current foreign minister and selected a new defense minister as the country deals with rocky relations with the US and expands its military.
The National People's Congress endorsed the appointment of Chinese Minister of Foreign Affairs Wang Yi (王毅) as state councilor, making him a ranking member of the country's "Cabinet."
He replaces Yang Jiechi (楊潔篪), China's former top diplomat, who was tipped for a leading role in managing Beijing's increasingly uncertain relations with the US under President Donald Trump.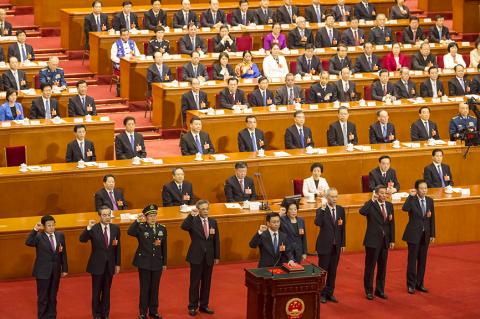 From left to right, Chinese Minister of Public Security in charge of the police Zhao Kezhi, Minister of Foreign Affairs Wang Yi, Minister of National Defense Wei Fenghe, vice premiers Hu Chunhua, Han Zheng, Sun Chunlan and Liu He, State Councilor Wang Yong and State Council Secretary-General Xiao Jie gesture during an oath-taking ceremony at the 13th National People's Congress in Beijing yesterday.
Photo: Bloomberg
While Yang was known for his good relationships with former US officials, it is unclear what advantages Wang, who was once ambassador to Japan, would have for handling the sensitive relationship at a time of growing trade tensions.
China's chief diplomat also faces ongoing regional maritime disputes in the South China Sea, with Beijing facing criticism over its construction of artificial islands capable of hosting military equipment.
Yesterday's government reshuffle included the naming of Lieutenant General Wei Fenghe (魏鳳和), a former missile force commander, as minister of national defense.
Zhao Kezhi (趙克志) was confirmed as minister of public security in charge of the police, while Chen Wenqing (陳文清), a former top official in the Chinese Communist Party's graft-busting agency, remains minister of state security responsible for espionage and counterintelligence.
China has increasingly been deploying its intelligence agencies overseas to track down those accused of high-level corruption, along with other perceived regime opponents and critics who have moved abroad.
As defense minister, Wei is outranked by Chinese President Xi Jinping (習近平), who is also chairman of the Central Military Commission, and two vice chairmen, but will be the main interface between China's 2 million-member armed forces and the rest of the world's militaries.
China this year increased its military budget by 8.1 percent to about US$173 billion, making it again the world's second-largest behind the US.
China's Cabinet is headed by Premier Li Keqiang (李克強), the CCP's No. 2 leader, who on Sunday was reappointed to a second five-year term by the legislature.
The vote came a day after Xi was reappointed China's president with no limits on how many terms he can serve.
The legislature also approved the appointment of Yang Xiaodu (楊曉渡) as director for the National Supervisory Commission, created from a merger of the party's internal anti-graft watchdog with one that oversees civil servants. It will have the power to detain suspects for up to six months without seeking court approval.
Comments will be moderated. Keep comments relevant to the article. Remarks containing abusive and obscene language, personal attacks of any kind or promotion will be removed and the user banned. Final decision will be at the discretion of the Taipei Times.