Beijing paving way for Xi Jinping to stay as president
EMPEROR'S RETURN? The Central Committee today begins a three-day meeting on personnel. It has called for an end to term limits for the nation's head of state
The Chinese Communist Party (CCP) has proposed scrapping term limits for the country's president, Xinhua news agency said yesterday, appearing to lay the groundwork for CCP General Secretary Xi Jinping (習近平) to remain as president beyond 2023.
The CCP Central Committee proposed removing from the constitution the expression that China's president and vice president "shall serve no more than two consecutive terms," Xinhua said.
"Xi Jinping has finally achieved his ultimate goal when he first embarked on Chinese politics — that is to be the Mao Zedong (毛澤東) of the 21st century," said Willy Lam (林和立), a political analyst at the Chinese University in Hong Kong.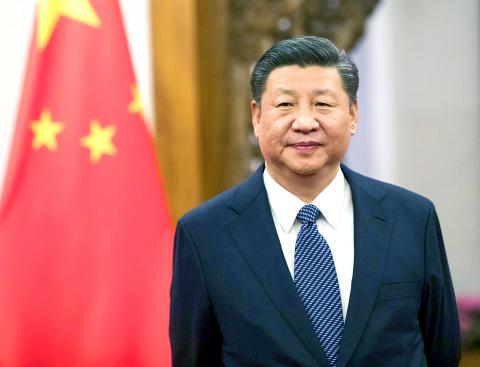 Chinese President Xi Jinping is pictured at the Diaoyutai State Guest House in Beijing on Feb. 1.
Photo: EPA-EFE
Xi, 64, cemented his status as the most powerful Chinese leader since Mao in the 1970s at last year's twice-a-decade CCP National Congress, where his name and a political theory attributed to him were added to the party constitution as he was given a second five-year term as general secretary.
It was the latest move by the party signaling Xi's willingness to break with tradition and centralize power under him. Xi has taken control of an unusually wide range of political, economic and other functions, a break with the past two decades of collective leadership.
"What is happening is potentially very dangerous because the reason why Mao Zedong made one mistake after another was because China at the time was a one-man show," Lam said. "For Xi Jinping, whatever he says is the law. There are no longer any checks and balances."
Xi is coming to the end of his first five-year term as president and is set to be appointed to his second term at an annual meeting of the National People's Congress that starts on Monday next week. The proposal to end term limits is likely be approved at that meeting.
Term limits on officeholders were included in the 1982 constitution, when lifetime tenure was abolished.
Political analysts said the party would likely seek to justify the proposed removal of the presidential term limit by citing Xi's vision of establishing a prosperous, modern society by 2050.
"The theoretical justification for removing tenure limits is that China requires a visionary, capable leader to see China through this multi-decade grand plan,"' Lam said.
"But the other aspect of it could just be Mao Zedong-like megalomania; he is just convinced that he is fit to be an emperor for life," he said.
Beijing Institute of Technology economics professor and political commentator Hu Xingdou (胡星斗) said while Xi might need an extra five-year term or two to carry out his plans, the country is unlikely to return to an era of lifetime tenure for heads of state.
"This is beneficial to pushing forward reforms and the fight against corruption, but it's impossible for China to have lifetime tenure again," Hu said.
The CCP Central Committee is scheduled begin a three-day meeting in Beijing today to discuss major personnel appointments and other issues.
Comments will be moderated. Keep comments relevant to the article. Remarks containing abusive and obscene language, personal attacks of any kind or promotion will be removed and the user banned. Final decision will be at the discretion of the Taipei Times.