Nations mull 'Belt and Road' alternative
INFRASTRUCTURE: Australian Minister for Foreign Affairs Julie Bishop and Japanese Chief Cabinet Secretary Yoshihide Suga have played down any rivalry with Beijing
Australia, the US, India and Japan are talking about establishing a joint regional infrastructure scheme as an alternative to China's multibillion-dollar Belt and Road Initiative in an attempt to counter Beijing's spreading influence, the Australian Financial Review reported yesterday, citing a senior US official.
The unnamed official was quoted as saying that the plan involving the four was still "nascent" and "won't be ripe enough to be announced' during Australian Prime Minister Malcolm Turnbull's visit to the US later this week.
However, the project was on the agenda for Turnbull's talks with US President Donald Trump during that trip and was being seriously discussed, the official said.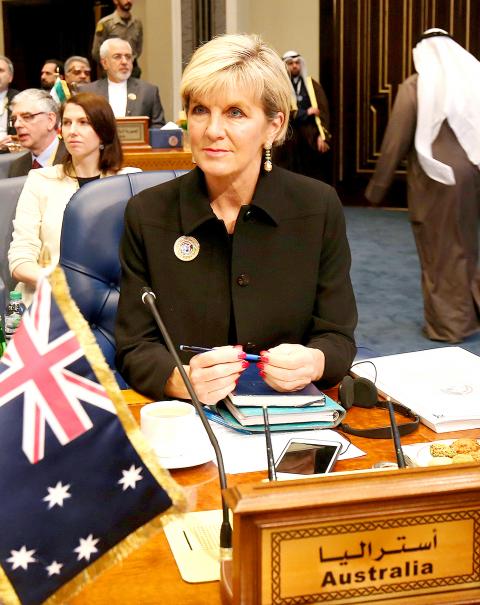 Australian Minister for Foreign Affairs Julie Bishop attends an international conference in Kuwait City on Feb. 14.
Photo: AFP
The source added that the preferred terminology was to call the plan an "alternative" to the Belt and Road Initiative, rather than a "rival."
"No one is saying China should not build infrastructure," the official was quoted as saying. "China might build a port which, on its own, is not economically viable. We could make it economically viable by building a road or rail line linking that port."
While Trump withdrew the US last year from a massive regional trade pact that included Australia and Japan, the National Security Strategy paper that he released in December last year called for policies to answer Chinese and Russian infrastructure-building efforts.
Australian Minister for Foreign Affairs Julie Bishop told Sky News in an interview that senior officials from the four nations have discussed "a range of opportunities and challenges," Bloomberg reported yesterday.
"There is an enormous need for infrastructure, particularly in our region," she said.
Bishop played down any rivalry with China, telling Sky News that any new "infrastructure initiative need not be at the expense of any other initiative."
Japan plans to use its official development assistance (ODA) to promote a broader "Free and Open Indo-Pacific Strategy," including "high-quality infrastructure," according to a summary draft of last year's white paper on ODA.
"Between the four countries, we are exchanging opinions about mutual interests on various occasions, including the Japan-US and the Japan-US-India, Japan-Australia-India trilateral frameworks," Japanese Chief Cabinet Secretary Yoshihide Suga told reporters yesterday in Tokyo.
"I would like to refrain from discussing details of specific discussion topics. Anyway, it's not the case that this is in opposition to China's One Belt, One Road plan," he said.
The Indo-Pacific strategy has been endorsed by Washington and is also seen as a counter to the Belt and Road Initiative.
First mentioned during a speech by Chinese President Xi Jinping (習近平) to university students in Kazakhstan in 2013, the Belt and Road Initiative is a vehicle for the Asian country to take a greater role on the international stage by funding and building global transport and trade links in more than 60 countries.
Xi has heavily promoted the initiative, inviting world leaders to Beijing in May last year for an inaugural summit at which he pledged US$124 billion in funding for the plan, and enshrining it into the Chinese Communist Party's constitution in October last year.
Beijing last month outlined its ambitions to extend the initiative to the Arctic by developing shipping lanes opened up by global warming, forming a "Polar Silk Road."
Additional reporting by Bloomberg
Comments will be moderated. Keep comments relevant to the article. Remarks containing abusive and obscene language, personal attacks of any kind or promotion will be removed and the user banned. Final decision will be at the discretion of the Taipei Times.