EPA sets timetable to ban plastic use
BEACHHEAD: A coalition has launched 67 action plans to cut marine pollution, while local agencies would be asked to monitor beaches to investigate sources of garbage
The Environmental Protection Administration (EPA) yesterday introduced a series of plans to reduce the use of plastic products that cause marine pollution, with the use of plastic straws expected to be limited next year and disposable tableware banned by 2030.
The plans were jointly drafted by the agency and eight environmental groups, which formed a coalition on marine waste disposal in July last year.
"Marine pollution has become another serious environmental problem for the world, in addition to global warming," said Tse-xin Organic Agriculture Foundation member Chen Li-hsin (陳立信), who discussed their collaboration over the past six months at a news conference in Taipei.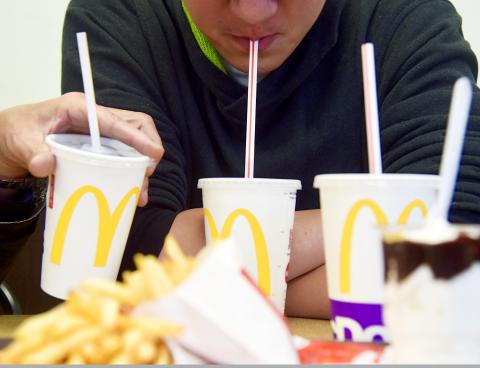 A man at a fast-food restaurant in Taipei yesterday drinks through a plastic straw, as the Environmental Protection Administration announced plans to phase out the use of plastic items in the catering and retail sectors.
Photo: Huang Yao-cheng, Taipei Times
The coalition has launched 67 action plans that focus on four areas: source reduction; prevention and removal of marine waste; research and investigation; and expanding public participation, he said.
In particular, the plans target plastic bags, disposable tableware, plastic straws and beverage cups, many of which end up as garbage on beaches, Chen said, adding that the coalition hopes to gradually ban the use of those products in 12 years.
With 2020 as the first signpost, the EPA would require restaurants to stop providing plastic straws, while extending its ban on plastic shopping bags to all stores that give invoices for consumption, it said.
By 2025, the bans on plastic bags, disposable tableware, take-out beverage cups and plastic straws are to be extended to more businesses, the agency said, adding that it would increase their prices to restrict their use.
By 2030, it would ban the use of all plastic shopping bags, tableware, take-out beverage cups and straws.
These plans aim to create a sustainable environment for future generations, EPA Minister Lee Ying-yuan (李應元) said.
Most businesses have been willing to cooperate with the expanded ban on plastic bags that took effect last month, he said.
The EPA will also conduct more beach cleanup activities and ask local environmental bureaus in municipalities near the sea to monitor beaches every season to investigate the sources of garbage, Department of Water Quality Protection Director-General Yeh Chun-hung (葉俊宏) said.
The other members of the coalition are the Wild at Heart Legal Defense Association, the Taiwan Environmental Information Association, Hiin Studio, the Society of Wilderness, the Sea Citizens Foundation, Greenpeace Taiwan and the Kuroshio Ocean Education Foundation.
Comments will be moderated. Keep comments relevant to the article. Remarks containing abusive and obscene language, personal attacks of any kind or promotion will be removed and the user banned. Final decision will be at the discretion of the Taipei Times.