Deputy said to be next central bank head
STEADY HAND: An economist said Yang is familiar with the organization and would help stabilize the foreign exchange market, the No. 1 challenge for the next governor
Central bank Deputy Governor Yang Chin-long (楊金龍) has reportedly won the nomination as the nation's top monetary policymaker after Governor Perng Fai-nan (彭淮南) retires on Feb. 25.
In an exclusive report yesterday, the Chinese-language Liberty Times (the sister newspaper of the Taipei Times) broke the news, which is consistent with market expectations.
The long-awaited appointment, which still requires confirmation from the Presidential Office and the Executive Yuan, would make Yang the central bank's first deputy to become governor.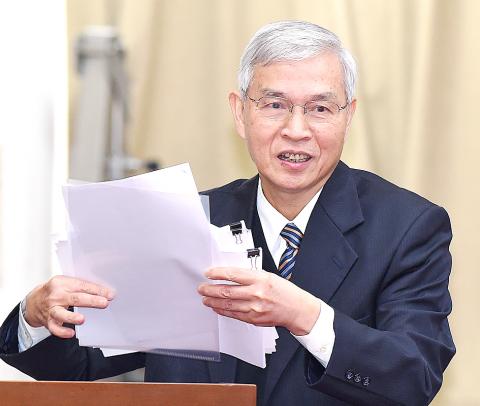 Central bank Deputy Governor Yang Chin-long gathers his papers during a question-and-answer session of the Legislative Yuan's Finance Committee in Taipei on Saturday last week.
Photo: Liao Chen-huei, Taipei Times
He is expected to extend Perng's "dynamic stability" approach in dealing with foreign exchange.
Yang, 64, who earned his doctoral degree in economics from the University of Birmingham in 1989, served in the central bank's research, foreign exchange and banking departments, and was its representative in its London office, before becoming deputy governor in 2008.
His purported appointment appears to be a safe call, as he is familiar with the central bank's duties and operations, and would help stabilize the foreign exchange market, Taiwan Institute of Economic Research (台灣經濟研究院) economist Gordon Sun (孫明德) said.
"It is time the central bank sends foreign funds a message that it will not sit around tolerating drastic appreciations of the local currency," Sun said.
Foreign exchange policy represents the No. 1 challenge for the next governor, as it has a profound bearing on Taiwan's export-reliant economy, he said.
The New Taiwan dollar has gained 2.5 percent against the US dollar this year after picking up 8.14 percent last year.
In a rare move, the central bank on Thursday blamed the greenback's volatility on interventions by the administration of US President Donald Trump.
US Secretary of the Treasury Steven Mnuchin on Wednesday told the World Economic Forum in Davos, Switzerland, that a weaker US dollar is in the interest of the US as it relates to trade, the central bank said in a statement.
Mnuchin's predecessors believed in a strong greenback to advance the same purpose, it added.
"While it is impractical to battle the global trend, the central bank can still weigh in and slow the pace to allow local firms some buffers," Sun said.
Foreign exchange losses last year totaled NT$176.1 billion (US$6.05 billion) for domestic life insurance companies alone, eroding their profits by 60 percent, Financial Supervisory Commission data showed.
Chung-Hua Institution for Economic Research (中華經濟研究院) head economic researcher Liu Meng-chun (劉孟俊) said the most formidable challenge for Yang would be to continue the central bank's independent operation, which many have attributed to Perng's professional and personal prestige.
Perng has been rated as one of the world's top-tier central bankers by New York-based magazine Global Finance for 14 consecutive years and last week won a lifetime achievement award from global Central Banking Publications.
"It remains to be seen if Yang, a long-standing loyal deputy governor, can step out of Perng's shadow and command support from ruling and opposition camps for his policy decisions," Liu told the Taipei Times.
To avoid controversy, Yang might take cues from Perng and put economic stability ahead of corporate profitability, Liu said.
Comments will be moderated. Keep comments relevant to the article. Remarks containing abusive and obscene language, personal attacks of any kind or promotion will be removed and the user banned. Final decision will be at the discretion of the Taipei Times.