Rights groups decry second 'snatching' of HK bookseller
DISSENT: Gui Minhai's daughter said her father had been snatched by plainclothes police while on a train accompanied by two Swedish envoys
Human rights campaigners yesterday slammed as "appalling" the disappearance of dissident publisher Gui Minhai (桂民海) after his daughter said he had been snatched again in China, the latest person ensnared in Beijing's crackdown on civil society.
Rights have come under increasing pressure since Chinese President Xi Jinping (習近平) took power in 2012, with widespread arrests of lawyers and activists.
Gui, a Swedish citizen, was one of five Hong Kong-based booksellers known for salacious titles about the lives of China's political elite who went missing in 2015 and resurfaced in detention on the mainland.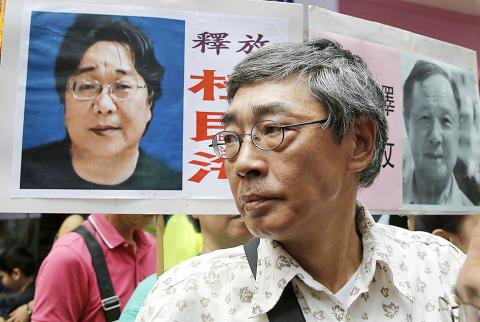 Freed Hong Kong bookseller Lam Wing-kei stands next to a placard with picture of missing bookseller Gui Minhai, left, in front of his book store in Hong Kong, as protesters march to to the Chinese central government's liaison office on June 18, 2016.
Photo: AP
Chinese authorities said they had released Gui in October, but it was unclear to what extent he was a free man.
His daughter, Angela Gui, told Radio Sweden that since her father's official release from detention, he had been put in a police-managed apartment under surveillance.
She said that he was then snatched by plainclothes police on Saturday while on a train to Beijing from Ningbo, where he was living, while accompanied by two Swedish diplomats.
Her father had been traveling to Beijing to see a Swedish doctor as he was showing symptoms of the neurological disease amyotrophic lateral sclerosis, she said.
"At one of the stops before Beijing there were about 10 men in plain clothes that came in and said they were from the police and just grabbed him and just took him away and after that I have not heard anything," she told Radio Sweden.
The New York Times also reported that Gui had been taken in the presence of two Swedish diplomats.
The Swedish Ministry of Foreign Affairs said it was "fully aware" of what had happened to Gui.
Ministry spokesman Patric Nilsson said that "forceful measures have been taken at a high political level."
Swedish Minister of Foreign Affairs Margot Wallstrom had summoned China's ambassador to a meeting and had been promised information about what happened to the publisher, Nilsson added.
During a regular press briefing, reporters asked Chinese Ministry of Foreign Affairs spokeswoman Hua Chunying (華春瑩) about the incident, but she declined to directly address the case, saying she was "not aware of the details" and that the issue was out of the agency's "remit."
However, she added that "any foreigner must observe Chinese laws and regulations. This is common sense."
Rights group Amnesty International described the incident as "absolutely appalling" and called for Gui to be released and allowed to seek medical treatment.
The fact that he was snatched in front of diplomats should be a "wake-up call" to the international community, Amnesty's China researcher William Nee (倪偉平) said.
Literary society and activist group PEN Hong Kong expressed "highest concern" over Gui's latest disappearance.
Comments will be moderated. Keep comments relevant to the article. Remarks containing abusive and obscene language, personal attacks of any kind or promotion will be removed and the user banned. Final decision will be at the discretion of the Taipei Times.