President vows to enhance defense, aid young people
GREAT EXPECTATIONS: Tsai said she hoped one day young people would realize that she is working to realize society's shared values, albeit slower than they would like
President Tsai Ing-wen (蔡英文) yesterday vowed to continue efforts to increase Taiwan's defense self-reliance, which she said is critical to the nation's sovereignty and peace in the region, but revealed that her administration is compiling a list of arms and equipment it plans to purchase from the US.
Tsai made the remarks during a year-end gathering with the media at the Taoyuan-based Chungshan Institute of Science and Technology, the main agency responsible for the nation's research, development and production of defense technology and weapons.
The choice of venue was considered unusual for such an event and was believed to be a demonstration of the president's emphasis on the domestic defense industry.
President Tsai Ing-wen, center, walks past a mock-up of a next-generation jet trainer during a year-end news conference at the Chungshan Institute of Science and Technology in Taoyuan yesterday.
Photo: Liu Hsin-de, Taipei Times
"How to find Taiwan's role and way out amid increasing variables in the regional and global contexts is one of the issues that has taken up most of my attention since taking office," Tsai said, citing China's apparent attempts at military expansion, heightened tensions on the Korean Peninsula, and strategic competition between Beijing and Washington.
Against such a backdrop, increasing the nation's defense self-reliance is the key to safeguarding its sovereignty and maintaining regional peace and prosperity, she said.
"It is the ultimate protection for our national security," Tsai said.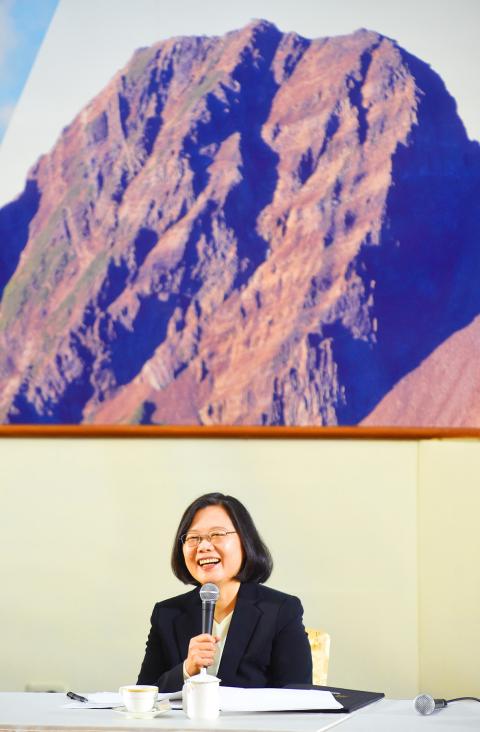 President Tsai Ing-wen speaks at a year-end media gathering at the Chungshan Institute of Science and Technology in Taoyuan yesterday.
Photo: Liu Hsin-de, Taipei Times
Singling out a few of the institute's achievements, Tsai said the domestically developed Teng Yun uncrewed aerial vehicle is soon to begin mass production, while a next-generation jet trainer — jointly developed and manufactured by the institute and a local company — is to make its maiden flight in 2020 as scheduled.
However, she said the nation would still turn to its friends, such as the US, for help to make up for insufficiencies.
"Over the past 500 days, we have conducted a thorough examination of our overall defense strategies and capabilities. We are indeed having an internal discussion on what we plan to acquire from the US in the next phase," Tsai said, adding that the government would discuss the matter with Washington when the list is ready.
In late June, US President Donald Trump's administration announced the sale of a US$1.42 billion arms package to Taiwan, the first since Trump's inauguration in January, which included Mark 48 heavyweight torpedoes, AGM-88 high-speed anti-radiation missiles, AN/SLQ-32 shipboard electronic warfare suite upgrades and RIM-66 Standard missile components.
In addition to self-reliance in defense, Tsai said she aims to address the problem of low incomes among young people.
She said she plans to assuage the problem in five ways: facilitating industrial transformation, pushing for a "minimum wage act," offering vocational counseling to low-income earners, encouraging corporation-led pay hikes and providing social housing and other welfare policies to alleviate young people's burdens.
As her administration's handling of labor law amendments and the pending legalization of same-sex marriage have met with strong criticism from young voters, Tsai was asked whether the perceived reneging on her campaign promises could affect the Democratic Progressive Party's performance in next year's local elections.
"We understand the younger generation's unrest, their high ideals and their hope that their values can be quickly realized in a way they imagined ... but we, as the ruling party, have to face problems from a more realistic perspective, and spend time persuading and communicating, as our society is filled with different opinions," Tsai said.
She said she hoped that one day, young people would realize that their leader has always endeavored to realize the shared values of Taiwanese society, despite doing so at a pace not to their satisfaction.
Turning to cross-strait issues, Tsai said that despite China's increasingly frequent military activity in the region, she believed its leader is a "rational decisionmaker" who has never considered taking military action against Taiwan.
Although high-level communication across the Taiwan Strait has been suspended since her inauguration in May last year, Tsai said she hoped to cooperate with Beijing in tackling air pollution.
"Air pollution is not about politics, because it concerns the health of everyone. We think this issue is suitable for further cross-strait communications," she said.
Comments will be moderated. Keep comments relevant to the article. Remarks containing abusive and obscene language, personal attacks of any kind or promotion will be removed and the user banned. Final decision will be at the discretion of the Taipei Times.