Defense report focuses on asymmetric warfare
STRATEGIC SHIFT: The defense ministry's white paper focuses on layered defense to confront an enemy with a much larger budget and faster military development
The Ministry of National Defense yesterday unveiled its biennial white paper on national defense, outlining doctrinal changes that emphasize asymmetric warfare and layered defense.
The 2017 National Defense Report reiterates the military's commitment to an all-volunteer force and the indigenous development of military aircraft and warships.
"We are cognizant that our nation cannot compare with the defense budget and military development in China, whose military's pace of growth and strength have far exceeded expectations," Minister of National Defense Feng Shih-kuan (馮世寬) said in the report.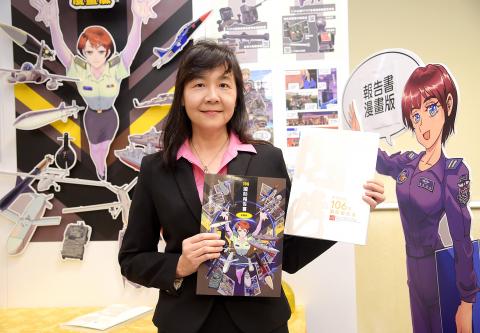 Ministry of National Defense defensive policy director Miao Hui-fen holds plain-text and illustrated versions of the ministry's National Defense Report at its launch yesterday in Taipei.
Photo: Huang Yao-cheng, Taipei Times
"Consequently, we must employ vision and foresight in our adjustment of defense concepts and overall armament development," he said.
China has acquired the ability to execute long-range sea and air operations, and it is pushing the reach of its force projection to the areas west of the second island chain, the report said.
The second island chain refers to Japan's Bonin Islands and Volcano Islands, and the US' Mariana Islands.
Those developments necessitate a change in the nation's strategy from "strong defense and effective deterrence" — which had been in effect since 2009 — to "strong defense and layered deterrence," the report said.
Strong defense refers to in-depth defense, improving combat sustainability, protecting command and control infrastructure from cyberthreats, and developing strategic endurance, it said.
Layered deterrence involves using "innovative and asymmetrical warfare" that confronts the enemy with multiple dilemmas to achieve deterrence, it said.
The overall military strategy in a defensive war is to achieve "force preservation, win decisive battles in littoral waters and annihilate the enemy on the beachhead," the report said.
It is desirable for the military to acquire precision-guided munitions, electronic countermeasures, guided anti-tank missiles, man-portable air defense systems, fast multiple-role warships, uncrewed aerial vehicles and naval minelaying capabilities, among others, the report said.
The report listed Chinese air and sea drills conducted between Aug. 18 last year and Dec. 11, including 23 air patrols and two aircraft carrier exercises in proximity to Taiwan's territorial waters or air defense identification zone.
The ministry will stop giving news briefings on ongoing Chinese military exercises near Taiwan, ministry spokesman Major General Chen Chung-chi (陳中吉) told a news conference in Taipei.
"When Chinese aircraft and ships are not posing any more threat to us than usual, we see no need to help them with their propaganda," he said.
Comments will be moderated. Keep comments relevant to the article. Remarks containing abusive and obscene language, personal attacks of any kind or promotion will be removed and the user banned. Final decision will be at the discretion of the Taipei Times.