Taiwan firms rethink China operations
INSTABILITY: China's increasing focus on environmental protection and sudden shifts in policy are forcing Taiwanese companies to reconsider their options in China
Despite a decision by the Kunshan City Government in China to postpone an order for factories along the Wusong River to shut down, Taiwanese companies said they might still have to reconsider their operations in China.
The city on Sunday issued an order for the immediate shutdown of 270 factories — half of which are Taiwanese — in a bid to reduce water pollution in the river.
The order, effective from Monday through Jan. 10, has since been put on hold.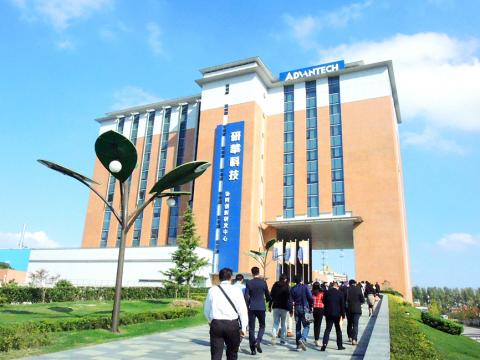 People walk toward Advantech Co's research and development center in Kunshan in China's Jiangsu Province on Nov. 6 last year.
Photo: CNA
Printed circuit board makers such as Career Technology (嘉聯益) saw their shares fall sharply yesterday on the Taiwan Stock Exchange following the announcement.
Career Technology said its production capability and finances would not have been greatly affected by the policy, but it is considering acquiring more factories elsewhere and expanding its Taipei plant.
Industrial computer manufacturer Advantech Co (研華科技) said its production would not have been affected, because it emits very little wastewater and the volume could be adjusted over the shutdown period.
Food conglomerate Uni-President Enterprises Corp (統一企業) said that it would have only been slightly affected by the restrictions to halve the release of wastewater, adding that its sales would not have been affected, because it has plenty of inventory.
Advanced Semiconductor Engineering Inc (ASE, 日月光半導體), the world's largest chip packaging and testing services provider, said that it was observing the situation.
All factories should observe local regulations, Nanya Technology Corp (南亞科技) president Wu Chia-chau (吳嘉昭) said, adding that his company would select high wastewater emission plants for priority scaleback if needed.
The Chinese government is beginning to focus on environmental protection after decades of prioritizing economic growth and it is not shy about cracking down on companies to enforce its vision, Chinese National Federation of Industries secretary-general Tsai Lien-sheng (蔡練生) said.
However, the order to halt production in the Wusong River region would have hurt Taiwanese businesses, even though these businesses might have tested negative for pollution, he said.
China's recent focus on environmental protection is one of eight major difficulties facing Taiwanese businesses in the region, the Taiwan Electrical and Electronic Manufacturers' Association said.
While the measures do not single out Taiwanese companies, the time given for companies to make adjustments — between six months and one year — is not enough, the association said.
China might not be the best region for investment if Taiwanese businesses continue to focus on original equipment manufacturing, the association said, underlining the need for Taiwanese businesses to expedite their transition.
Businesses have no buffer if the city decides to intermittently initiate emergency shutdowns along river sections, Kunshan Taiwanese Business Association member Lee Kuan-hsin (李寬信) said.
China has made it clear that nature is to take precedence over economic growth and stricter regulations are expected next year, but it is unreasonable to halt production for an entire zone, Lee said.
Through communication, businesses and local governments would be able to tackle environmental pollution together, Kunshan association president Tsung Hsu-hui (宗緒惠) said.
Other Taiwanese companies said privately that they believed the policy affected the industry greatly and could diminish Kunshan's attractiveness for Taiwanese businesses.
Additional reporting by Lo Chien-yi
Comments will be moderated. Keep comments relevant to the article. Remarks containing abusive and obscene language, personal attacks of any kind or promotion will be removed and the user banned. Final decision will be at the discretion of the Taipei Times.